The people who attend conventions catering to geeks—like the bustling celebration of video games, graphic novels, and anime that was last month's New York Comic Con—don't have the best reputations in the wider culture. Straight male devotees are generally portrayed as awkward, socially inept, and pervy, a strange hybrid of The Simpsons' Comic Book Guy and a subway flasher. The female geeks (if they are shown at all) don't come off as much better, seen either as weird, freaky, or awkward—think Charlyne Yi in Knocked Up and Zooey Deschanel in  New Girl—or as overly sexualized cosplayers, like the perennially popular Slave Leia.
None of these stereotypes are completely false (e.g. the anime convention that attracted a sex offender)—but they aren't completely true, either. In fact, New York Comic Con (NYCC) and other fan specific spaces also do a tremendous job of inverting many carefully crafted social norms.
Nowhere was this more apparent than at New York Comic Con's speed dating event. Prejudices that plague the wider dating market are checked at the door: Asian men—who don't fare well by OkCupid's metrics—are a highly sought after commodity, possibly due to anime and Japanese dramas finally showing Asian male characters as objects of desire rather than derision. Spending three minutes talking about Gundam collectibles is more likely to excite a prospect instead of making their eyes glaze over. Guys won't be mocked in front of the entire Internet for being awesome at Magic the Gathering. And, unlike traditional dating circles that try to encourage women to forgo feminist ideas in order to win true love—never call a man! Play by "The Rules"!—at NYCC speed dating, the women call the shots. This is even more poignant considering the comics and their fan worlds are heavily dominated by male artists and creators who seem to think that women are strongest when they forget to wear clothing. To carve out a space where women set the tone for engagement is nothing less than amazing.
One company, Lightning Fast Speed Dating, is combining the resurgence of nerdy pastimes and our increasingly single population's quest for love. Two years ago, the company launched a convention-specific program geared at fans and enthusiasts 18 and over, promising the potential to "meet your own superhero or shinobi [ninja]," the program, which was free to this year's 100,000 attendees, was a runaway success. The demand was so great that they added a sixth, stealth session, announced only to those who were turned away from the advertised events.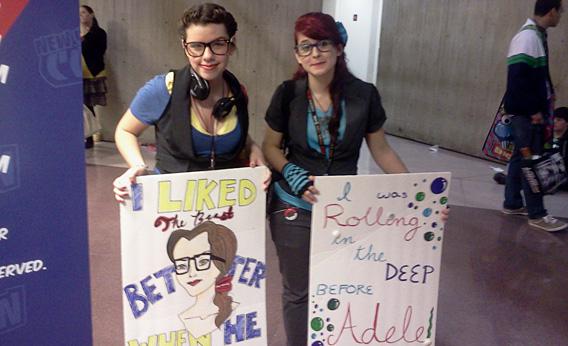 The average participant range for the NYCC speed dater is 18-26, but that varies from convention to convention. Star Wars conventions, for example, tend to skew much, much older attracting 40-50 year olds relieving their teen years in a safe environment. In an inverse to regular speed dating (and regular New York City demographics), men vastly outnumber women—the ratio is skewed to provide three guys to every girl. Participants are free to indicate sexual preferences. While the majority of participants are heterosexual, there is a much smaller homosexual event that happens simultaneously. Bisexual? Since the groups for same-sex love are so much smaller, bisexual daters get to make one rotation with the queer contingent and one rotation in the general population. Tracey, the date wrangler and coordinator at Lightning Fast, notes that normally, gay men are the largest queer demographic at Speed Dating events, but at Comic Con, "girl-on-girl" action is taking precedence.
Women get all the perks at NYCC speed dating: They are allowed walk-up access to the festivities (most men were relegated to a 50+ person line) and were stealthily advised on the attractiveness of the men in the room by the organizers, who encouraged peek-ins to sessions, which are held in a deeply unsexy underground bunker at the Javits Center. Due to space constraints, most daters get only one shot at the dating-go-round, so getting a look at prospective mates provides many women with reassurance.
The femme-friendly theme continues with the warm-up portion. As the president of Lightning Fast Speed Dating and main master of ceremonies, Ryan Glitch, calls out instructions to the daters, he notes:
If you are carrying a bag or a big papier-mache axe, put any big weird bulky items in the back. Gentlemen, please, I need you to understand something. You are not God's gift to women, women are God's gift to you. Men, if you are here to get laid, leave. Ladies, if you here to get laid, take your pick.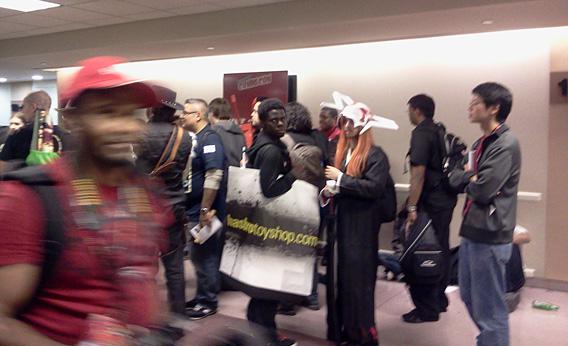 The male speed daters truly didn't seem like they were just there to get laid, and some of them were even a little sheepish about attending in the first place. Dater No.19, who declined to provide his real name, decided to "take one for the team" as he couldn't convince any of his other single friends to come. Even at Comic Con, the stigma for participating is high—even though we are at a convention where people run around in superhero costumes, it is still seen as uncool to admit to using a dating service.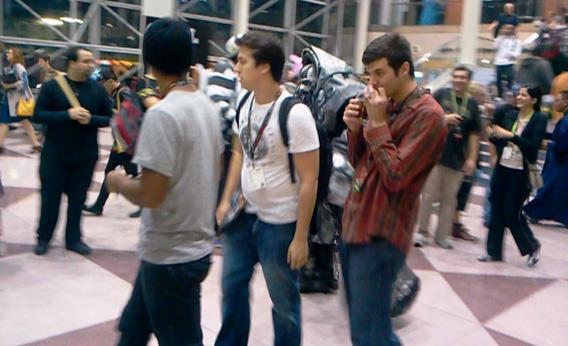 Another way that Comic Con speed dating is more accepting of nontraditional relationships is that there are transparently nonmonogamous people participating. Adam W., 33, a handsome black man who came dressed as Elwood Blues from The Blues Brothers, is in a long-distance open relationship. Adam says he's looking for "a girl who knows how to grab the controller from me." He jokes, "Some guys won't drop the controller for a naked woman. I'll put it on pause." Like Adam, most men were looking for a connection with someone accepting of quirks, both sexual and otherwise: a relationship where you never have to "come out of the closet" about your collection of action figures or predilections toward dress-up.
Over on the ladies' side, the attitudes were very similar. Regina B., 33, bounced up to the table with a gorgeous red patterned dress and a style equal parts Harajuku and punk rock. While she was ambivalent about meeting someone at the event, she said she preferred the face-to-face contact because her experience on online dating sites taught her the Internet maxim that people lie in photos. A frequent con-goer (who is into horror and costume drama as well as Star Wars and anime), Regina explained how the normal dating preferences often disqualified women like her: "I have a hard time with Caucasian men because I'm taller. … Punk rock guys wanna date size zero Gap girls, not me." She expressed interest in "beautiful Korean and Asian boys," but also had a list of requirements, including no one named Jimmy and no one in a band. But, by mid-evening, Regina was happily engaged and chatting with men of all races, her hot pink painted mouth upturned in a shy smile.
Though it's refreshingly counterculture, speed dating at Comic Con is not a panacea. Dating in general can be exhausting and downright depressing. But there's something comforting about meeting someone within your subculture, where you already share a beloved interest. As M.C. Ryan points out, "Real speeding sucks. You are stuck in a room with 50 people you have nothing in common with. Guys, this is the place where your action figure collections matters."