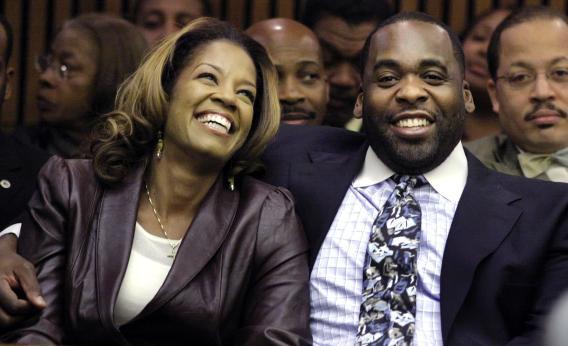 Political wives were doing so well. In the most recent string of major political sex scandals, wives of philandering men refused to fulfill the Tammy Wynette stereotype. Forget "Stand by your man." This was "Honey, leave me out of it."
Darlene Ensign, Jenny Sanford, and Huma Abedin denied their husbands the comfort of their physical presence at his "mea culpa" press conference. And they denied the public and the press the opportunity to pick apart their outfits, tired visages, and downcast expressions before an onslaught of news photographers. They removed themselves—as best as they could—from the public light. And when Maria Shriver learned that Arnold produced a son who was not her own, she terminated their marriage. No press conference. No fuss.
This was the new generation of political wives. When he strayed, she said "deal with it." Whether or not they opted for divorce, one thing was clear: These political wives were not going to help their husbands apologize to his constituents for his bedroom misdeeds.
Well, it was nice while it lasted.
Last week, one political wife reversed course. Carlita Kilpatrick, wife of former Detroit Mayor Kwame Kilpatrick, sat by her husband's side in the couples' first ever joint interview post-scandal.
To refresh your memory, Kwame Kilpatrick was convicted of nearly a dozen felonies back in 2008 in connection to the thousands of "sexts" he sent to his chief of staff, Christine Beatty. Kilpatrick was released from prison in August after serving 14 months.
There sat Carlita, her hair flowing and her dress long enough to be decent yet clingy enough to reveal sex appeal. And there sat Kwame, legs crossed to reveal black dress socks, offering his viewers a megawatt smile.They bantered with the host, Deya Direct, who produced the segment for blackamericaweb.com.
Back in 2002, Kwame Kilpatrick sent Christine Beatty this text: "That's the first time that I couldn't finally seduce you. My game is off. LOL!"
Now, Kwame announced on the segment, "This woman right here was specifically designed to be my wife."
And Carlita reaffirmed her divine connection to Kwame, the avid texter. "I think this [their marriage] is something God definitely intended."
We tend to lump together political wives, defined by the sexual transgressions of their husbands. But it's time to at least raise the possibility that some political wives might not mind the media spotlight on them. Perhaps some even like it? Perhaps some even choose it. And perhaps some even benefit from it.
Kwame Kilpatrick's book is now on sale. Profits from Surrendered: The Rise, Fall and Revelation of Kwame Kilpatrick will help cover the costs of the $800,000 he owes Detroit in the restitution related to his case.
God always helps sell books. And a pretty wife can't hurt too. But let's not assume he's just using her. Let's hope that a behind-the-scenes negotiation took place and perhaps wife got what she wanted out of husband. Perhaps it's something material or personal from him. Or maybe it's simply the excitement of public attention. That's all fine, as long as it's the wife who seeks it – and not the husband who enforces it.
Hinda Mandell, Ph.D., wrote her dissertation on political wives and teaches in the department of communication at the Rochester Institute of Technology.

---