In Part 1 of "Big Man, Little Countries," Josh Levin visits the smuggler's paradise of Andorra. In Part 2, he surveys the fast cars and rich folks at the Monaco Grand Prix. In Part 3, he goes to San Marino, the world's oldest republic. In Part 5, he attends a tiny-country farewell party.


Before we left the United States, I gave my credit card company a list of our likely destinations: Spain, Andorra, France, Monaco, Italy, San Marino, Austria, Switzerland, Liechtenstein. The customer service representative took careful notes, then repeated the list back to me: Spain, Andorra, France, Monaco, Italy, San Marino, Austria, Switzerland, Lishinsky. That last one should be Liechtenstein, I said. "Yes," she answered. "Lishinsky."
People who live in small countries (non-Monaco division) have to shake off these minor slights. Liechtensteiners need to have the thickest skin of all: Nobody knows where Liechtenstein is, nobody knows how to pronounce its silly name, and the few people who fancy themselves experts on matters Liechtenstein inevitably have it confused with someplace else. Matthew Keller, a senior political adviser at the embassy of Liechtenstein in Washington, D.C., says his office gets so many calls about that other small, three-syllable European L country that they've taken to calling themselves the embassy of Luxembourg.
Earlier this year, Liechtenstein faced a new kind of indignity—an advertisement, posted on Airbnb and other websites, claiming that one could rent the entire country for $70,000 per night (with a two-night minimum). After I quizzed Keller about the ad, he quickly sent me an official statement from Ambassador Claudia Fritsche:
Xnet AG Event Marketing claimed that the "whole state" of Liechtenstein could be rented out for corporate events, allowing clients to temporarily transform Liechtenstein "by branding everything from city squares and street signs, to temporary currencies, and more." … [N]o official Liechtenstein institutions are involved in this product. The Government of the Principality of Liechtenstein rejects the name and concept of the product which has led to gross inaccuracies by the media and will take legal action to stop it from including Liechtenstein in the future.
While that sounds persuasive, that rent-the-country ad isn't completely preposterous. In 2010, Snoop Dogg tried and failed to rent all of Liechtenstein for a video shoot. The reason? In the words of a local real-estate agent, the rapper "did not give us enough time."
As we head north from San Marino, I scold myself for my lack of advance planning—alas, I will not be rebranding Liechtenstein as Lishinsky, nor will I make it rain with millions of freshly printed "Levin bucks." As soon as we open a Liechtenstein menu, I also start to wonder about Airbnb's stated rental price. At a restaurant in the capital of Vaduz, a plate of chicken nuggets goes for 20 Swiss francs—around $25.50. The whole country for $70,000 a night? Knock back a couple of dozen nuggets and you'll barely have enough cash left for cab fare back to the hotel. (Pro tip: A local tells us that everyone crosses the border to eat in Austria, where dinner is much cheaper.)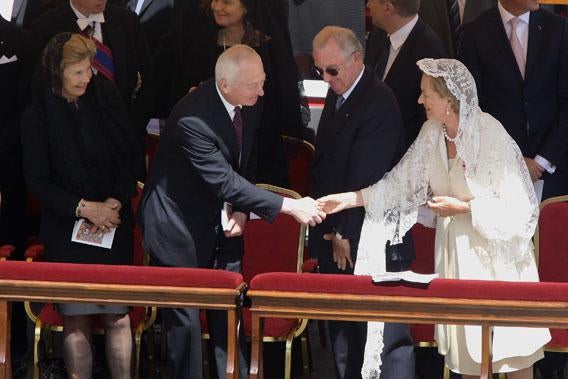 Liechtenstein—which, again, is not Luxembourg —is 62 square miles (bigger than Monaco and San Marino, smaller than Andorra) and has a population of 35,000. It is wedged between Switzerland and Austria and, like Andorra and San Marino, it is quite mountainous. If every small country has a gimmick—there's the one where you buy cigarettes, the one where you gamble in a tuxedo, and the one that's super old—then Liechtenstein is the one with Europe's most powerful monarch. Against the tide of history, Liechtenstein voted in 2003 to expand its prince's powers, giving him the ability to veto legislation. Everyone here loves the royal family—if I had a Swiss franc for every person who told us the prince was a down-to-earth guy who washed his own car, I'd be able to eat a lot of chicken nuggets. This adoration stems in part from a fear of abandonment. The Princely Family of Liechtenstein didn't deign to come here from Austria until 1938, when Prince Franz Josef II—the father of reigning Prince Hans-Adam II—made the move. Playing on Liechtensteiners' insecurities, Hans-Adam claimed he'd go right on back to Vienna if the 2003 vote didn't go his way. Yeah, what a prince. (This sort of power play is a standard move for little-country royalty. In 2009, French president Nicolas Sarkozy announced he would renounce his role as co-prince of Andorra if the country didn't reform its tax laws. Sarkozy must've been satisfied with Andorra's response, as he never followed through on the threat.)
Despite this royal intrigue, Liechtenstein feels like less of a novelty act than its fellow small states. I've traveled through Switzerland before, and Liechtenstein resembles a Swiss canton, albeit one with particularly pricy entrees. The Swiss, too, have a hard time telling the countries apart—in 2007, they accidentally invaded Liechtenstein for a very brief spell. The explanation proffered by one member of the Swiss military: "It was all so dark out there."
A couple of generations ago, Liechtenstein—then a nation of peasants—couldn't have been mistaken for its fancy neighbor. While the Swiss still like to mock Liechtensteiners' bumpkin-accented German, the little country is now an international banking center with the world's second-highest GDP per capita. (Qatar is No. 1.) It's also, naturally, an infamous tax haven, though Liechtenstein has earned high marks recently for its cooperation in ferreting out secret accounts. Regardless of the occasional tut-tutting from international tax collectors, Liechtenstein has the least political and financial anxiety of any of the small countries. After all, banking isn't the only game in town: Liechtenstein is also a leading producer of sausage casings and false teeth.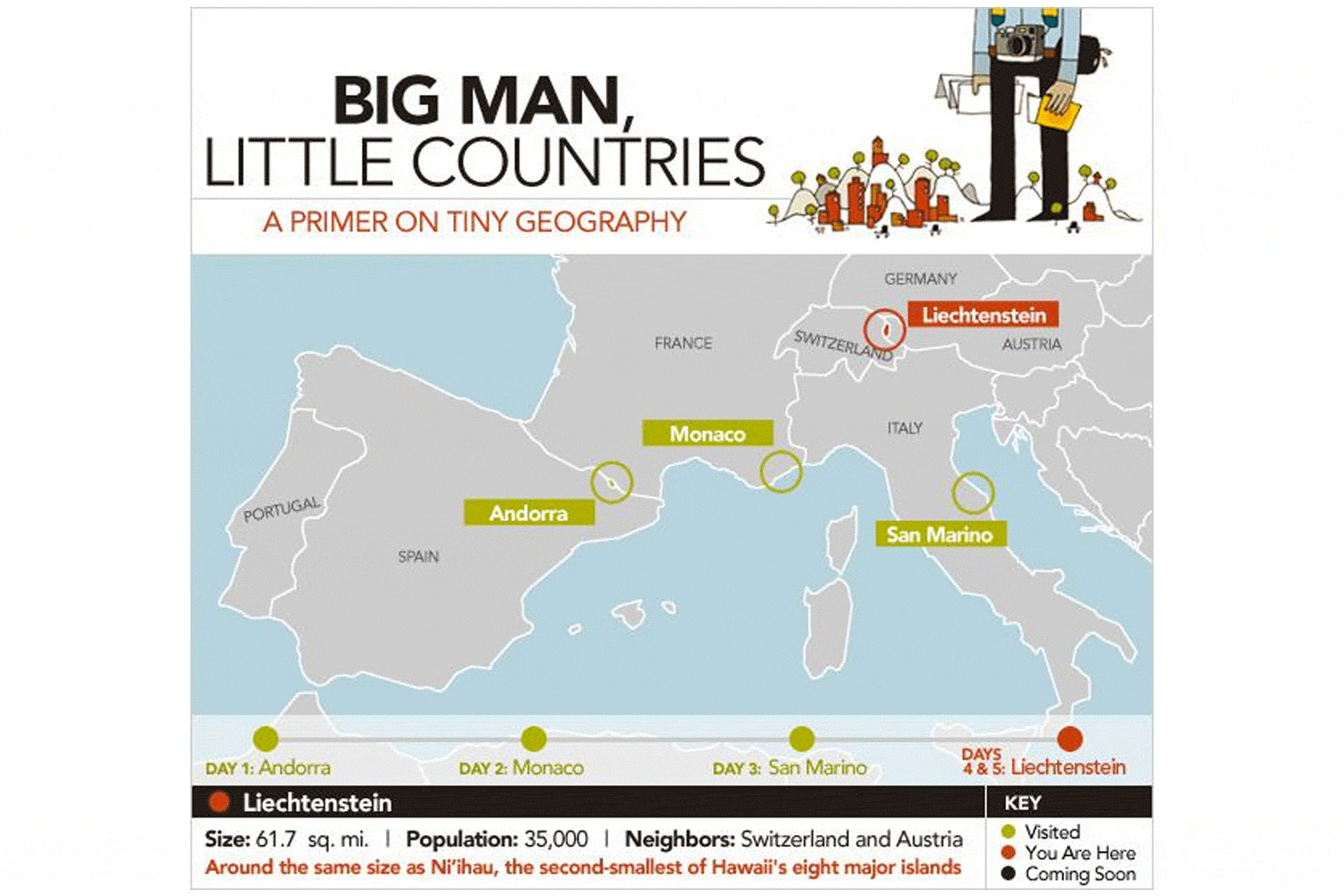 In spite of its per-capita prosperity, Liechtenstein doesn't get many opportunities to take an international bow. This week, it's at least at the center of Small World. For the second time, Liechtenstein is hosting the Games of the Small States of Europe, a biennial competition launched in 1985 by the European Olympic Committees. The LieGames features 678 athletes from nine countries: the four places we've visited, plus Cyprus, Iceland, Luxembourg, Malta, and Montenegro. All of these nations have a population of less than 1 million.
The size of the media contingent here—there are 29 journalists from Luxembourg, 13 from San Marino, and 13 from Malta—suggests that the Small States Games do not suffer from a lack of coverage in these population-poor nations. But so far as we can tell, we are the only members of the media from outside Europe. When we tell people that we're here from America, we're met with incredulous stares. Liechtensteiners inevitably follow up by asking if we saw the games' circus-themed opening ceremony, a highly spirited, not-quite-Beijing-caliber spectacle featuring a falcon, a clown on stilts, and a giant slip-and-slide. When we confess we got in too late to see the show, their disappointment is obvious. This was Liechtenstein's chance to show off for the world, and the world missed it.
For all the showiness of the opening ceremony, the Small States Games are a homespun affair. The games' budget, a lean 4.88 million Swiss francs—that's 244,000 plates of chicken nuggets—doesn't include any expenditures for new stadiums: Table tennis is at a school gym, the swimming venue is an outdoor public pool, and the track and field events are behind a postal facility. Many of the athletes pay their own way, and flag-waving teammates cheer each other on from the stands. There's free admission and free shuttles to every competition.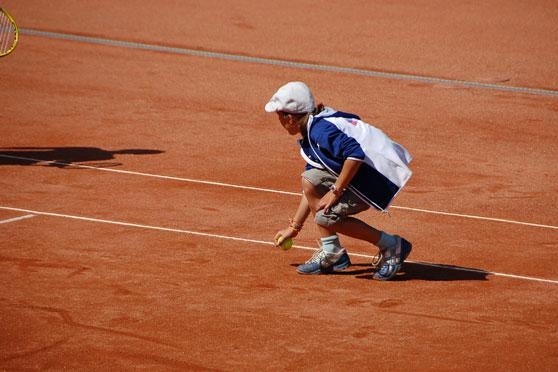 Sitting at the tennis venue in Vaduz on a sunny morning, the clay courts framed by fir trees and Alpine peaks, it strikes me that the LieGames are everything the Olympics pretend to be for the purposes of Visa commercials. While the athletes desperately want to win—Luxembourg's Mike Vermeer, a big-country-caliber hothead, throws his racket three times during a blowout defeat—the competition isn't coated with thick layers of self-importance. The men's and women's semifinals take place simultaneously on adjacent courts, with balls occasionally bouncing from one match to the other during play. When it's time for new balls, the umpire climbs down from his chair and grabs a fresh can out of his tote bag. The ball kids, too, are pleasingly unschooled—one poor girl slaps herself on the top of her white flat cap, dismayed by a succession of egregious tosses.
The Olympics, of course, could be this modest if nobody wanted to attend or broadcast them. There are perhaps 200 spectators here, most of them shaking complimentary noisemakers in support of local hero Stephanie Vogt. In the eyes of this flag-waving crowd, Vogt's match against Luxembourg's Claudine Schaul is more suspenseful than the Wimbledon final. Outside the realm of alpine skiing, Liechtenstein doesn't get many chances to claim sporting victory. The LieGames websiteboasts that "Liechtenstein has brought forth a number of internationally successful elite athletes," but the supporting evidence is pretty thin: The list of elite sportsmen includes a team of model-aircraft pilots. The country's national soccer team—the subject of a 2008 documentary called The Mouse That Scored—has, in fact, been outscored by 126 goals in five futile qualifying campaigns for the European championships. Liechtenstein is also the only team ever to lose to San Marino in an international soccer match.
At the Small States Games, the minnows are … well, still minnows. In this little universe, Cyprus and Iceland—neither of which has ever won Olympic gold—are the medal-hoarding great powers, while Monaco, San Marino, Liechtenstein, and Andorra tend to bring home four or five gold medals each. Still, this is a place where the microcountries are not laughingstocks, a major competition in which the bullies only kick a few grains of sand in their faces. "In the Olympics, you always lose in the first heat," an Andorran track coach tells us. "Here, you can be in the final."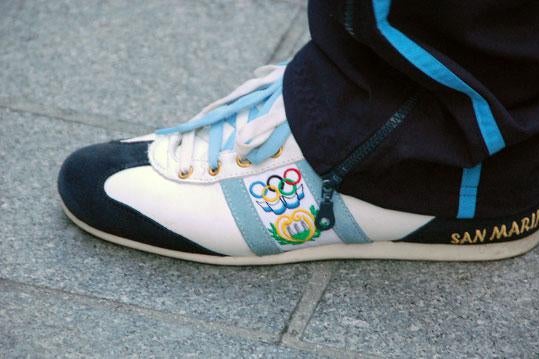 For the tiny nations' leaders and sports committees, these are the real Olympics. The Sammarinese athletes are wearing special sneakers bearing the Olympic rings, and Monaco's Prince Albert—an Olympian himself—comes to Liechtenstein to watch his country's air rifle team. On the tennis courts, 21-year-old Vogt—Liechtenstein's highest-ranking player at 262nd in the world—and 17-year-old countrywoman Kathinka von Deichmann both win their semifinals, ensuring the home team will win gold and silver. (The organizing committee has to scrounge for bleachers to accommodate the extra fans.) On the men's side, Monaco's Benjamin Balleret routs Luxembourg's Vermeer to make the final. Balleret, who's ranked 544th in the world, tells me after the match that playing here hurts his career—there are no ranking points at stake, and the tournament includes only a handful of professional players. Still, he keeps coming back—it's his fifth time at the Small States Games, and he's already won four silvers and a gold in singles and doubles. "It's just for the medal," he says. "Back home, it's a really big thing."
Once the tennis matches are over, we catch a shuttle over to the shooting range. The official LieGames mascots—short-sleeved, long-beaked, furry-headed eagles named Elfi and Alfi—are here to preside over the medal ceremony for the 50-meter rifle prone event. There are human mascots as well—a pair of little girls wearing Heidi-esque attire. Across the universe, in lands large and small, kids start to fidget when they're crammed into frilly formalwear. The girls, though squirmy, hold it together long enough to hand out the medals and miniature stuffed Elfis and Alfis.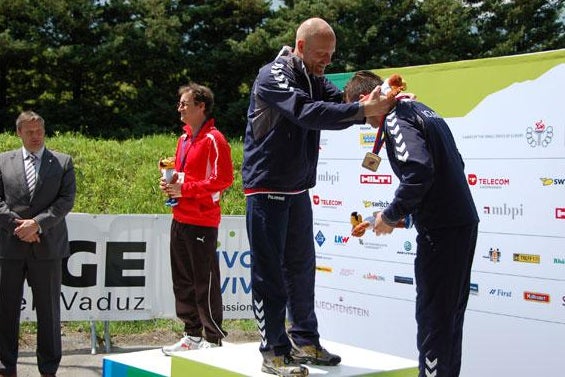 On the podium, gold medalist Helgi Gudmundur Christensen and bronze medalist Jon Thor Sigurdsson soon realize there's been a mistake: The bald Icelandic gold medalist has the bronze medal around his neck, and the dark-haired Icelandic bronze medalist has the gold. It's an amateurish screw-up, one that would never happen at the real Olympics. It's also the distillation of what makes the Small States Games so fantastic. The athletes aren't the best in their sports, the facilities aren't top-notch, and the crowds are relatively sparse. This is a sporting event on a human scale, by and for people who are overjoyed to be here. The Icelanders laugh as they swap their medals, and "We Are the Champions" comes on the P.A. The weather's fantastic, everyone's smiling, and, off to the side, a little boy in a bow tie beats another kid over the head with a Thunderstick.