In Part 2 of "Big Man, Little Countries," Josh Levin surveys the fast cars and rich folks at the Monaco Grand Prix. In Part 3, he goes to San Marino, the world's oldest republic. In Part 4, he journeys to Liechtenstein for the Games of the Small States of Europe. In Part 5, he attends a tiny-country farewell party.
When we think of a place like Andorra, if we big-country folk think of it at all, all that comes to mind is its weeness. I can empathize: As a man of 6-foot-6, I'm often the victim of vertical profiling. (Yes, I did play as a kid, but only in my backyard.) Europe's tiniest countries must cope with the same sort of stereotyping from general-interest travel guides. Liechtenstein "certainly has novelty value," clucks Lonely Planet's guide to Switzerland. San Marino "seems a little silly," snickers the company's Italian handbook.
Since Lonely Planet won't take these little nations seriously, I'll have to do it myself. (Don't be fooled by Lonely Planet's book on "micronations," which is, in fact, a guide to self-proclaimed states like the Republic of Molossia and the Principality of Sealand.) In this series, I vow neither to patronize Europe's teensy countries nor to pity them. These places are not fun-sized trifles. They are real sovereign states, with real people, real cultures, and real feelings.
And yes, they're really damn small.
Perhaps I'm drawn to the tiniest of the tiny because I love an underdog story. While these countries are small in stature, they surely have the biggest hearts (per capita) in the United Nations. I will investigate how these little marvels have survived in a world of giants, as well as how national identity manifests itself in a small country. I'll also report back on whether, as per The Mouse That Roared, every small-country man and woman looks like Peter Sellers.
To unseal these mysteries, I've mapped out a not-so-small jaunt across mini-Europe. (Apologies, Vatican fans: The pope didn't make the cut. And don't even ask about Luxembourg. It's around the size of Rhode Island, making it much too large for this exercise.) First up: Andorra, scrunched between France and Spain in the Pyrenees. Next comes itty-bitty Monaco, that glitzy bauble on the Mediterranean. Two hundred and fifty miles east as the crow flies, in the mountains of north-central Italy, is San Marino—one of three countries in the world that's completely enveloped by another country. (The globe's other two enclaved countries: Vatican City and Lesotho.) The last stop is Liechtenstein, a bankers' redoubt bounded by Switzerland and Austria, and the proud host of the biennial Games of the Small States of Europe. At these diminutive Olympics, I'll watch nine European minnows compete for glory in those classic tests of national character: table tennis, beach volleyball, and swimming relays.
Before setting out for Small World, I ordered a book that speaks directly to my petite mission. In 1954's The Little Tour, the mellifluously named Giles Playfair and Constantine FitzGibbon make their way around Andorra, Monaco, San Marino, and Liechtenstein, accompanied by an unnamed "lady photographer." I, too, have a lady photographer at my side—my lovely girlfriend—and we compare notes with our forebears on the way to Andorra. Quite wisely, it seems, we've passed on the opportunity to hike five miles uphill through 4-foot-deep snowdrifts to reach the Andorran frontier. (By the end of this trek, the "lady was crying with exhaustion." Poor lady!) Instead, my lady photographer and I are lounging on a bus en route from Barcelona. After a comfortable three-hour trip through Catalonia, we're at the border.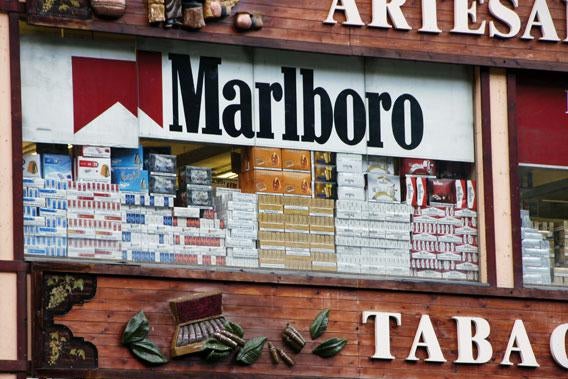 As there is no airport or train station in Andorra, most everyone arrives on four wheels. Judging by the scene here, those wheels often turn right back around. Just off the roadway, moated by massive parking lots, are shopping centers peddling perfume, liquor, and cigarettes—an airport duty-free corridor without the airport. A Spaniard can pull over, buy 300 cigarettes and five liters of table wine, and be back on the road while his receipt's still warm.
The transfer of consumer goods across state lines is central to Andorra's heritage. The country's lenient tax laws, lightly policed mountain paths, and position at the crossroads of France and Spain long ago cemented smuggling as a national enterprise. Andorra has served as a route for tobacco, weapons, cars, American-made coin-op jukeboxes, and everything else that can possibly be bought and sold. While modern Andorra doesn't approach the smuggling heights of the Franco years, old traditions die hard: As recently as 1998, the BBC uncovered a massive, international cigarette-smuggling racket. (The Andorran government has since enacted harsher anti-smuggling laws, though it's not clear whether that's put a crimp in the country's oldest profession. Andorra's most-recent major smuggling incident involved human trafficking. In 2009, Cuban defector Aroldis Chapman came to Andorra as a ploy to become a baseball free agent. After establishing residency, the left-handed pitcher signed a $30 million contract with the Cincinnati Reds.)
Andorrans' canniness with contraband helps explain how a 181-square-mile country—that's around 2.5 times the size of Washington, D.C.—has endured since the days of Charlemagne. For more than 700 years, Andorra has been ruled jointly by France and Spain, a co-principality arrangement that has ensured the country's safety while enabling it to nimbly switch allegiances: If it loses patience with daddy, it can always run to mommy—bearing several cartons of cigarettes, of course. Andorra has also benefitted from a general indifference to its existence. World War I did not officially end here with the Treaty of Versailles, as the European powers forgot to ask the Andorrans to sign it. (The Andorrans and Germans officially made peace in 1958.)
In the last two decades, Andorra has started to engage with the world. The country's constitution, approved by referendum in 1993, circumscribed the powers of France and Spain, and Andorra joined the United Nations the same year. Life after globalization hasn't been easy. While Andorra is also a popular winter-sports destination, the country has largely cast its lot with shopping. Due to the proliferation of shopping malls in France and Spain, the advent of the euro, and the global recession, Andorra's position as a duty-free mecca has weakened. Andorra la Vella, the capital, and the neighboring parish of Escaldes-Engordany at least have a different kind of retail, with the smokes and liquor giving way to electronics, housewares, sofas, and less-practical products. A car dealership specializes in unnaturally bright, souped-up vehicles with scissor doors. A shop called Safari-Master Trekking displays a pink-and-fuchsia blouse, a garment of uncertain utility in the bush.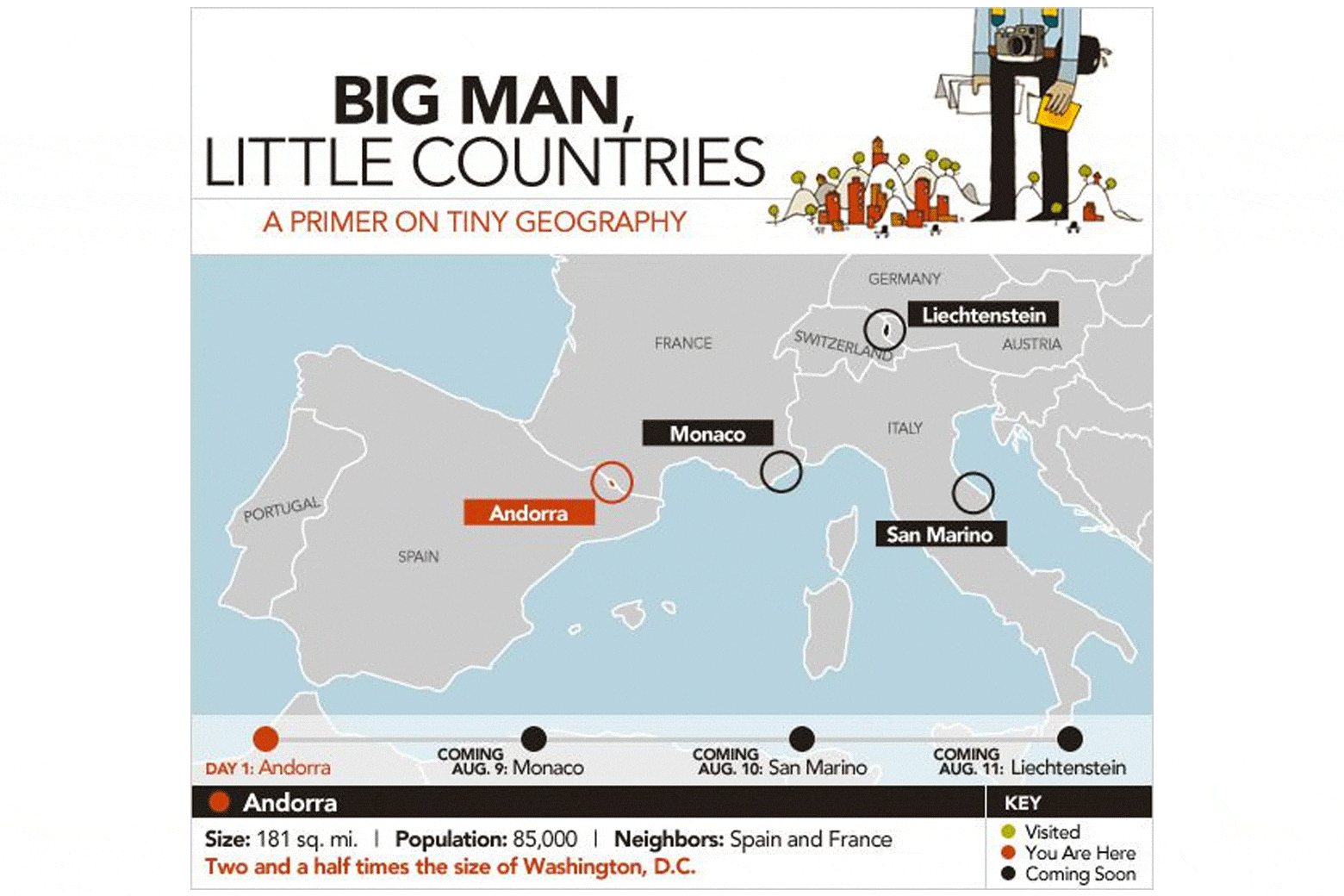 After a bit of window shopping, we set out for the quintessential Andorran dining experience: lunch at the massive Pyrénées department store. In the third-floor cafeteria, a mix of weary international shoppers and lunch-breaking Andorrans puff on cigarettes and guzzle seafood paella. In the meager nonsmoking section, we find seats next to a couple from Spain; he moved here from Mallorca to work at a hospital, while she's dropped in for a brief visit. We ask what there is to do here. "Cultura?" they say, swatting the question away. "Nada."
To the extent there is an Andorran culture, the country appears devoted to hiding it—the better to present a Pan-European consumer experience. With the exception of the Casa de la Vall, the 16th-century stone building that houses Andorra's parliament, Andorra la Vella's most noteworthy structures are its banks. I count at least six financial institutions, with branches around every corner—an omnipresent advertisement of the country's status as a tax haven. The squat flower pots and figurative sculptures in the city's historic center don't add much character either. They are the décor of an international business hotel—inoffensive and indistinct.
On our second day in the country, we meet a genuine, if atypical, Andorran. For 12 years, Clare Allcard sailed around the world with her husband and daughter on a 69-foot former trading vessel. The Allcards eventually landed in the Seychelles, leaving in 1980 after a socialist coup made it dicey to own private property. A short time later, in Singapore, she spotted an advertisement for Andorran housing in a newspaper wrapped around a loaf of bread. Soon after, Allcard got on a plane to Andorra and bought some land.
The 65-year-old Allcard, who was born in England, has now been here for 25 years, and she recently became an Andorran citizen. (She became eligible for naturalization after being an official Andorran resident for 20 years, at which point she passed an oral exam on the country's geography, politics, culture, and history in the official language of Catalan.) She loves the climate, the low crime rate, and the fact that she bumps into the prime minister at the grocery store. The one downside of citizenship, she says, is the widely held belief that Andorra is not a real place. After a friend's run-in with a particularly stubborn airport official, Allcard began carrying a two-sided map inside her passport. One side shows a teensy Western European fleck, the other a zoomed-in portrait of Andorra with an X marking her house.
For Allcard, Andorra isn't an open-air duty-free concourse. It's the mountains, the back roads, and everything else that isn't (yet) a shopping mall. Andorra: Festivals, Traditions, and Folklore, a book self-published by her writers circle, reveals that there is such a thing as Andorran culture, if you know when and where to look. If only the lady photographer and I were here at Christmas time, we could bear witness to the Andorran tradition of swaddling an oak log in a blanket, slipping chocolates underneath the covering, and beating the log with a stick. I'm also devastated to miss the "Trial of the Smugglers," a comedy staged annually during Andorra's Carnival. (Sorry to ruin it for you, but the smugglers get off.)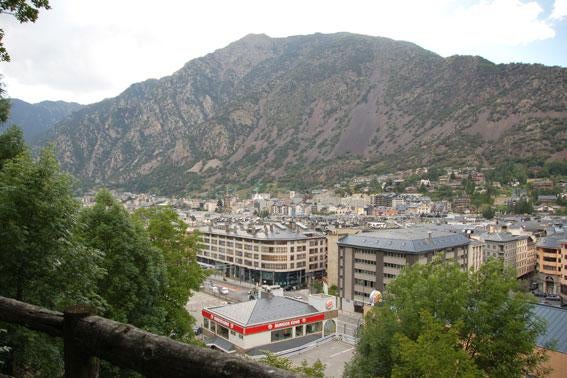 In the last 30 years, Andorra's population has grown from just north of 30,000 to 85,000, and an increasing number of roads have been covered with tarmac. Such projects have inspired acts of civil disobedience from preservation-minded Andorrans, she says, with one particular road grader in the Madriu Valley getting sugar in its gas tank. While you won't find me marching through the countryside with a 10-pound bag of sweetener, I'm all for conserving Andorra's natural beauty. On an early evening stroll along the Rec del Solà, Andorra's version of the High Line, we linger over beautiful bird's-eye views of gardens, winding streets, and the local Burger King.
The first lesson of our tour is that the world's smallest countries contain multitudes: It's not possible to grasp Andorra by standing in a single spot. On our second day, we leave the clutter of the storefronts for the wide open spaces of the Pyrenees. In late spring, with the ski chalets empty, the mountains are our own. In the village of Ransol, we hike past a herd of road-clogging cattle, bells clanging around their necks. A few hours later, we finally see some people amid the fir trees—a team of local firefighters scaling a rock face as part of a training run. We climb above them, then stop in a field of wildflowers for a picnic of ham and cheese. From our perch, we see the outlines of a duty-free store, packed to the ceiling with Marlboros. At the top of this mountain, with nobody else around, Andorra seems exactly the right size.
Correction, Aug. 8, 2011: Because of a production error, the map on this page originally mislabeled Germany and Austria.