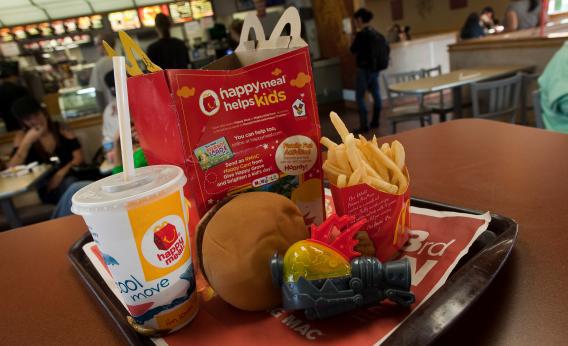 McDonald's got smart. Oh, who are we kidding? McDonald's has always been smart. Maybe they just wised up a bit, because in response to a barrage of bad publicity about the calorie, fat, and salt content on Happy Meals, they've made changes. Good changes. You still won't be heading to McD's for the McGoodForYou, but if the availability of healthy, balanced choices is your primary reason for dining there, you have problems this menu change simply isn't going to address.

But the Happy Meal, starting in September, will look at least more like the meals we want to put in front of our kids. It will include the same burger/nuggets options, a smaller serving of fries, and a small serving of apples, minus the caramel dip (which is actually going to seriously bum one of my kids out). The new meals will look more like my personal compromise, which was always to order for two kids one fries and two apples and redistribute. At 410 calories (when served with nuggets and 1-percent milk), it's probably not the meal I'd serve at home–but then, we're not at home. Not every meal has to meet nutitrional guidelines. And it's not necessarily about the number of calories available in the bag. It's about what the child actually eats, and what the child sees as the right things to make up a meal. Adding apples to that, and making that pile of fries smaller, keeps what makes a McDonald's meal a kid treat while improving the meal's profile overall.
This new, improved Happy Meal won't be available within the city limits of San Francisco, however: McDonald's will still include a toy, and without more vegetables and bigger cuts in calories, fat, and sodium, the Happy Meal doesn't meet the requirements of that city's new law, which goes into effect in December, restricting the inclusion of toys with child's meals. And it doesn't make everyone happy. McDonald's still includes soda on the list of available drink choices, ramping up the available sugar and calories even further. For most of us, "choices" is the key word there: McDonald's is happy to give your child milk, water, or their newest offering, fat-free chocolate milk. But for those among us who would demand that McDonald's charge extra for bad parenting, keeping soda on a kids menu makes this effort too little, and of course far too late. McDonald's has plenty of critics it can't possibly please, and it will always be smart enough not to try.

---