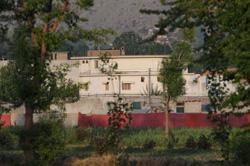 A national security offical has reportedly said that the raid on Osama Bin Laden's compound was a kill mission . Bin Laden had the chance to surrender-and refused-and the AP is reporting that a woman, who was used as a "human shield," is now also dead, along with four men. Not much is known about who this woman is. According to Politico :
Officials said they believed two of the four men killed were couriers for Al Qaeda and one was an adult son of bin Laden. A woman was killed after she "was used as a shield by a male combatant," one official said. Two other women were injured in the raid, the official said.
There were also allegedly four children who were taken away from the compound in an ambulance. President Obama said that soldiers " took care to avoid civilian casualties ," and Bin Laden's death is certainly a cause for widespread relief and celebration. Still, there's something pretty disturbing about the collateral damage surrounding his evil.
Photograph of bin Laden's hideout by Aamir Qureshi/AFP/Getty Images
---