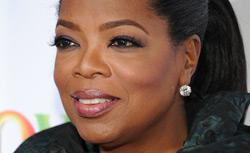 TV stations around the country are scrambling to fill the void that will be left Wednesday when Oprah Winfrey, the biggest celebrity the medium has ever created, airs the final episode of her afternoon talk show. Some stations will give her abandoned time slot over to episodes of the Ellen DeGeneres Show; others, to a talk show from an Oprah disciple, Dr. Mehmet Oz; still others will expand newscasts.
But for all the discussion of who will fill the temporal space left by Oprah, there has been barely a peep about who will take Oprah's spiritual place. Oprah, after all, is not merely an international superstar, nor is she just a product-pusher (vast though "the Oprah effect" may be)—to millions, she's nothing short of a guru. In the recently published Oprah: The Gospel of an Icon, Kathryn Lofton, an assistant professor of religious and American studies at Yale, argues that Oprah's secular-spiritual empire is based upon three main components: her ability to shape consumer behavior, her celebrity persona, and her use of quasi-spiritual language and imagery.
Certainly Oprah will not disappear entirely—her magazine will continue, and she's going to host a show on her poorly rated OWN network—but her influence seems sure to wane. An evening cable show will be watched by far fewer people than The Oprah Winfrey Show was. And from what we know, the new show seems likely to be a less consumer-oriented affair: There will be no "favorite things" gift extravaganzas, for one thing—"Oprah's Next Chapter," as it's called, will have no audience and will focus on travel and celebrity interviews. In this vacuum, who will fill the very particular hole Oprah is leaving behind? Having scanned the cultural landscape with Lofton's three key attributes in mind, we present three candidates for the job:
Gwyneth Paltrow is one possibility. She inspires consumption through her lifestyle newsletter GOOP, which recommends the purchase of Stella McCartney frocks and Proenza Schouler handbags, and she embraces a very Oprah-esque spirituality via a GOOP section called "Be," in which she asks pop-philosophers like Deepak Chopra why some people are so gosh-darn-pessimistic. But where Paltrow fails to be a plausible successor to Oprah is in her brand of celebrity. As Lofton explains, Oprah's credibility and fame have always been based on her own life's transformations—she was a poor girl born to a single mom from Kosciusko, Mississippi who became one of the wealthiest women on the planet, triumphing over sexual abuse, racism, and painful struggles with food along the way. And she shared her emotional revelations on camera: Who can forget the wheelbarrow full of fat she brought on stage to illustrate her 67-pound weight loss? Gwyneth's life, by contrast, has been the definition of charmed: As the Upper East Side-bred daughter of a famous actress and a successful producer, her story is far less emotionally fulfilling—even if she can tell you how to get a "twice pregnant ass" in shape.
Another potential secular-spiritual successor to Oprah is Jay-Z. Unlike Gwyneth, Jay has a well-burnished rags-to-riches story that takes him from Bed Stuy crack dealer to multimillionaire mogul and presidential pal. Like Gwyneth, he has a new lifestyle website, Life + Times, where he recommends things like Wells Stellberger footwear. But while he's got the inspiring rise and the consumer cultivation down, it's hard to see him leading anyone's spiritual awakening. Jay is notoriously private about his personal life—his relationship with megastar wife Beyonce is basically off-limits to the media, and as the New York Times put it, even his own memoir provided only "glimpses of the complicated, earnest artist behind the swaggering persona." To be a guru on a par with Oprah, you will need to appear to be constantly revealing some version of your innermost self: "When you get me you are not getting an image, you are not getting a figurehead," Lofton quotes Oprah as saying. "You're getting all of me. And I bring my stuff with me."
Given that Oprah's knack for self-revelation has been key to her influence, it follows that her heir might come from the world of reality TV. And sure enough, former Real Housewife turned margarita mogul and self-help expert Bethenny Frankel is the closest thing we have to a credible candidate for the role of Oprah's spiritual successor. She's got the consumer marketing part down pat: Her Skinnygirl low-calorie cocktail brand was just acquired by Beam Global Spirits and Wine Inc., the company behind Jim Beam and Makers Mark. She also has a triumphant personal narrative: Despite a dysfunctional youth and estrangement from her family, she has built loving relationships with her husband and new baby. And her ambition is as palpable as her willingness to share: After she broke out of the Real Housewives franchise to helm her own popular reality show, Bethenny Getting Married?, her penchant for TMI reached its pinnacle when she peed in a bucket. Wearing her wedding gown. On national television.
As for spirituality, Frankel's self-help book, A Place of Yes: 10 Rules for Getting Everything You Want Out of Life, is currently No. 4 on the New York Times miscellaneous and advice bestseller list. Much of the book seems to consciously ape Oprah's popular platitudes. Where Oprah's talk of life transformation is sprinkled with "Aha! moments" and mottos like "Big changes come with small choices" and "Live your best life," Frankel tells us to "break the chain" of our bad childhoods and to "find your truth" in order to find love.
In the final chapter of A Place of Yes, titled "Celebrate! The Business of Being Happy," Frankel actually quotes the Big O herself: "The more you praise and celebrate your life, the more there is in life to celebrate." It's classic Oprah-as-guru fare—blandly inspirational, verging on narcissistic—and it's particularly fitting that Frankel includes it in a chapter in which she claims she's gotten everything she wants from the universe. Perhaps now she finally has: Rumor is that Frankel is now in talks about her own daytime talk show.

*
---