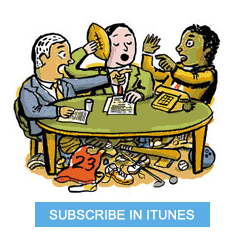 Become a fan of Hang Up and Listen on Facebook. Leave us a note, answer Mike's trivia question, and see what other listeners have to say about the latest podcast.
Listen to "Hang Up and Listen" with Stefan Fatsis, Josh Levin, and Mike Pesca by clicking the arrow on the audio player below:
You can download the podcast, or you can subscribe to the weekly Hang Up and Listen podcast feed in iTunes. (If you'd prefer to subscribe to the podcast in a program other than iTunes, here's the direct link to the Hang Up and Listen RSS feed.)
In this week's episode of Slate's sports podcast Hang Up and Listen, Stefan Fatsis, Josh Levin, and Mike Pesca discuss the Oklahoma City Thunder and the start of the Heat-Bulls series. They also talk about the anonymity of baseball's best hitter, Jose Bautista; an NBA executive's decision to come out; and the decline of sports nicknames.
Here are links to some of the articles and other items mentioned on the show:
Kevin Durant, Russell Westbrook, and the Thunder beat the Grizzlies to make it to the Western Conference finals.
The Heat got outrebounded by the Bulls in Game 1 of the Eastern Conference finals.
Salary cap data for the Thunder, Bulls, and Heat.
Jose Bautista hit three home runs Sunday, giving him 16 on the season.
Fangraphs' Dave Cameron asks if Bautista is the best hitter in the American League.
A 2010 Deadspin post on Bautista and steroids speculation.
A 2009 Deadspin on Raul Ibanez and steroids speculation.
Joe Posnanski on why he believes steroids have mostly been eradicated from baseball.
The New York Times' Tyler Kepner on how Bautista made himself a better hitter.
The New York Times' story on Phoenix Suns CEO Rick Welts' coming out.
NHL player Sean Avery made an ad supporting gay marriage; hockey agent Todd Reynolds came out against gay marriage.
The NBA's PSA on homophobia.
The New York Times on the disappearing nickname.
Wikipedia's list of baseball nicknames.
A list of Chris Berman's nicknames.
Hang Up and Listen's weekly Ghostface Drillas:
Mike's Ghostface Drilla: The ups and downs of one-time baseball phenom Earl Williams.
Stefan's Ghostface Drilla: The worst franchise in pro sports, Women's Professional Soccer's majicJack. (Here's owner Dan Borislow's quote about "lazy cupcake eaters.")
Josh's Ghostface Drilla: Topps' diamond giveaway and 2011 Gypsy Queen baseball cards.
Podcast production and edit by Abdullah Rufus.
You can e-mail us at hangup@slate.com.
---