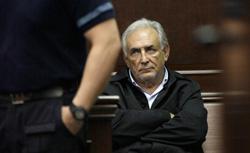 Back in 2008, when Dominique Strauss-Kahn was being investigated for abuse of power because he had sex with a subordinate at the IMF, the attitude of some observers was that "puritan America" couldn't handle a "seducer" like DSK . Flash forward three years to a much graver alleged offense-DSK has been accused of raping a hotel maid in New York-but according to many French feminists, the attitude is the same.
Judith Ezekiel, who is a professor-in-residence of women's studies at Wright State University, got responses to DSK's alleged transgressions from several French feminist scholars and activists. She told me she heard four main lines of thought from these women:
First, that DSK is of course innocent until proven guilty. Second, that feminists are almost unanimously furious at the lack of consideration for the alleged victim, and for the way that DSK has been turned into a victim himself ( by Bernard-Henri Levy and others , who argue that the Americans are treating him like a common criminal). Third, they are angry at the media's complicity in covering up instances of sexual harasment, and not only in DSK's case. Finally, they're upset that the media are conflating seduction and extra-marital sexual relations with sexual assault and harassment, as if they are all in the same category.
Ezekiel, who lived in France for 35 years and was active in the feminist movement there, is also concerned that this incident may spur an anti-Americanism that could hurt feminists and women. ( Philip Gourevich raised similar concerns about increased anti-American sentiments earlier this week .)  In a paper Ezekiel published in the European Journal of Women's Studies in 2002 , she outlined the way in which anti-Americanism has hurt the feminist movement in France in the past, specifically in regards to the Clarence Thomas/Anita Hill hearings. French feminist Elisabeth Badinter wrote back then that the incident was "a kind of terrorism inspired by relentless feminist inquisition," and furthermore that Thomas' only crime was having sexual desires and expressing them. The implication here is that the prudish American feminist sensibility gets in the way of honest eroticism. Let's hope this same argument does not get made on behalf of Strauss-Kahn in the French media this time around. (Already, according to the New York Times , there are indications that Strauss-Kahn's defense team may claim that the encounter with the hotel maid was consensual .)
It's heartening that French politicians and feminists are beginning to speak out against DSK in the local press. Elisabeth Guigou, who is a prominent figure in the French Socialist party (DSK was a potential presidential candidate for that party), said on Wednesday that there should be a "clear difference" between flirting and sexual violence . The feminist group Collectif National pour le Droit des Femmes made a public statement condemning those who blame the alleged victim, as well as those who conflate seduction and sexual violence. If these awful allegations have one positive outcome, it may be that this incident provides an opportunity for French feminists to speak out against harassment and sexual assault.
Photograph of Dominique Strauss-Kahn by Richard Drew-Pool/Getty Images.
---