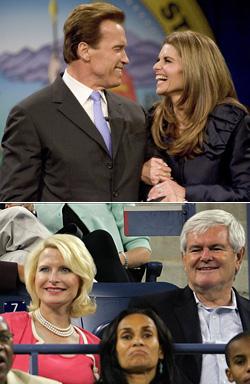 Two unrelated pieces of news out today form an interesting juxtaposition: the endurance of the Gingrich marriage as Newt stands on the cusp of a presidential run, and the dissolution of the 25-year marriage of Maria Shriver and Arnold Schwarzenegger . Both had a "nontraditional start," as a Gingrich friend quoted in the New York Times put it – the Gingriches because Newt and Callista took up while Newt was still married, and continued as the House Speaker and his fellow Republicans pushed for the impeachment of the philandering president. And as for the former Republican governor of California and Shriver, the journalist and Kennedy scion, their "odd-couple political match was a source of endless interest to outsiders," in the words of the Los Angeles Times .
This is, once again, that old lesson about how you can't see into a marriage. If the Gingriches seemed doomed from the start because of Newt's history of philandering – What's that you say? There's still time? – the Schwarzenegger-Shriver union seemed comparatively solid because they'd been together so long and had weathered the difficult period during Schwarzenegger's bid for office in 2003, when he was accused of being a lewd womanizer and Shriver vehemently defended him to voters. Maybe not the deal we'd all like to cut, but she appeared to have made her peace with it. The California couple's announcement was reminiscent of the Al and Tipper Gore split last year. "Why, After All These Years?" the Time magazine headline put it back then. ( Time's answer: Life changes suck.)
In its piece on the Schwarzenegger-Shriver split, the Los Angeles Times sketched a portrait of two people who have been pursuing separate interests and schedules for some time. Schwarzenegger has been to Brazil, London, France, and D.C., attending events like Mikhail Gorbachev's 80th birthday bash, natch. Meanwhile, he's improbably getting back into the movies . Shriver has been to the Bahamas and has taken one of their four kids on a tour of colleges. At the same time, she's been mourning the death of her father, Sargent Shriver. In the couple's joint statement, they hinted, perhaps, at a reason for the growing apart: "This has been a time of great personal and professional transition for each of us." That is, life changes suck.
Or maybe it's not so much the transitions themselves that cause problems. Maybe it's that they give a couple the time and space to decide to do something they've been considering for a long time.
Photograph of Maria Shriver and Arnold Schwarzenegger by David Paul Morris/Getty Images. Photograph of Newt and Callista Gingrich by Matthew Stockman/Getty Images.
---