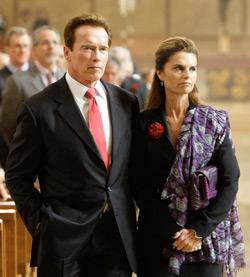 In 2003, after a series of damning stories about Arnold Schwarzenegger's history of sexual harassment were published while he was running for governor of California, his wife Maria Shriver stepped up and defended his integrity publicly-and some say it helped him win the election.  A friend of Shriver's told the New York Times back then, "Maria is steel with a soft center. I saw her get a little steelier perhaps. But I think it was because she was determined that Arnold come out of this experience with his dignity intact." Oof.
Shriver supported her husband so vociferously then, it's difficult not to read the headlines about Arnold's secret love child with a member of their household staff and wonder if Maria has any soft center left now that her husband's dignity is out the window. Arnold basically admitted to sexually harassing those women (he said he thought he was just being playful and "apologized"-insincerely-to the people who were "offended"), so perhaps Maria felt that his caddish behavior was just a misunderstanding, and in any event, a thing of the past. Still, it's tough to imagine a marriage in which a woman is so in the dark about her husband's true character. Was she blinded by love ? Afflicted with the Kennedy marriage curse ? Did she just get entranced by the prospect of political power in a family where political power is the major currency?
Arnold has given another apology for his transgressions, and at least this one sounds a bit more genuine: "There are no excuses and I take full responsibility for the hurt I have caused. I have apologized to Maria, my children and my family. I am truly sorry." My one observation from watching her over the years is that even when she was up there on the podium, cheering on her husband, her face always looked drawn and depressed. Whatever the explanation is for her staying with that marriage for so long, I hope that she can find happiness now that it's over.
Photograph of Arnold Schwarzenegger and Maria Shriver by Reed Saxon-Pool/Getty Images.
---