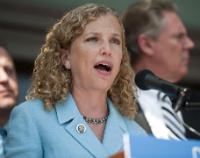 I was really hoping that this Politico article, " Wasserman Schultz's Juggling Skills Questioned ," was going to blow the lid off of some backroom congressional competitive clown school. But alas, not only was the article not about circus skills and beef thereof, it was about what seems like old-fashioned sexism driving whispered complaints that Debbie Wasserman Schultz won't be able to handle double-duty as both the Democratic National Committee chairwoman and as a Florida Representative. "Well, Debbie's got a lot of energy, but I don't know how in the world she's going to do that,"  one fellow Democrat said.  It's true that the previous two DNC chairs concentrated solely on that gig. But an anonymous Dem told Politico , "There have been a number of people who have served in elected office and chaired the DNC at the same time – and members from both sides of the aisle serve in Congress and run their party's respective political committees with great success."
So why all the negging directed at Wasserman Schultz, who happens to be the first woman to hold the post? Well, it's possible that it's not the two jobs critics are worried she can't handle, it's the THREE: She's also a mother to three kids, including a set of twins. A Republican campaign opponent openly questioned whether she could successfully combine those duties with her congressional ones; it's hard not to wonder whether the same question is being asked, less openly, by colleagues on her own side of the aisle now that she's ramping up the professional part of her life even more.
Photograph of Debbie Wasserman Schultz by Bill Clark/Getty Images.

---