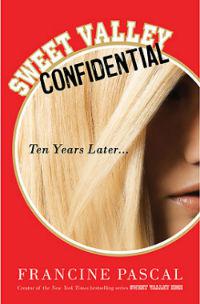 I came to Sweet Valley Confidential a blank slate, having only skimmed the series as a child. I was a Babysitters' Club partisan and found myself with a Sweet Valley book only if a sleepover, say, had left me–as a child, I experienced minor anxiety if left without a book for too long-in the bedroom of a girl who worshipped the Wakefield twins. Even with my poor understanding of the Wakefield universe, Sweet Valley Confidential was easy to understand: It's a soapy, nostalgia-choked kiss blown to Sweet Valley fans.
And that's a good thing. Even if it left me a little mystified in places.
We are reintroduced to 27-year-old twins Elizabeth and Jessica after a cataclysmic event: Elizabeth's fiance, Todd Wilkins, and Jessica, fall in love, leaving sweet Liz heartbroken. (If Wikipedia informs me correctly, this mirrors the plot of the original Sweet Valley novel-a nice touch.) Elizabeth flees to New York to escape the heartbreak and gets a grunt-level job at a theater publication that we are repeatedly told is "like Zagat for theater." Her other primary preoccupation is dwelling on her hurt and punishing her twin, ignoring Jessica's calls. Jessica, whose work involves marketing green cosmetics, likewise passes time by alternately self-flagellating and feeling indignant. But really, the plot is just an excuse to reminisce and bring in old characters-apparently, few people leave Sweet Valley and never return, as it seems that the old gang (at least, what I assume is the old gang) all live within a few square miles of one another.
At the reunion that serves as the climax of the twins' feud, they swap stories about what everyone is up to. Jessica says, "Gossip is the best part of Sweet Valley." Indeed, even though I don't know who the hell any of these people are, the gossip is beyond juicy. We get unexpected coming-outs, a sudden death, copious tears, and even the occasional taut nipple.
Perhaps the most enjoyable part of Sweet Valley Confidential are the hilarious asides to incidents from the original series that, when summarized in one or two sentences, sound outlandish. For instance, as she contemplates her estrangement from her sister, Jessica reminisces, "One time when we were in high school, this lunatic madman came at her with a sledgehammer. I jumped in between them, and I didn't even have a weapon." Later, Wakefield friend Bruce recalls an old ex from high school: "She went to that part with the drugs, tried some cocaine, and it killed her." For all their talk about the safety of Sweet Valley's womb, it certainly sounds like a fairly dangerous place.
Author Francine Pascal seems to be out of her comfort zone with her grownup heroines-sex and swearing don't come naturally to her-and is charmingly, distractingly naive in her portrayals of the life of an entry-level writer in New York. Her Elizabeth complains good-naturedly about the lazy doorman at her Upper West Side apartment (a poorly paid writer who is not explicitly supported by her parents has a doorman ?). She also has an answering machine, and cell phones make few appearances. But that's part of the magic here, isn't it? This is essentially a YA novel aimed at women in their 20s and 30s, who would find it disorienting to see wealthy Elizabeth in a truly crummy apartment and spending lots of time on Twitter.
Reading Sweet Valley Confidential has instilled in me an intense longing for a Babysitters' Club follow-up. Ann M. Martin, hear my prayer.
---