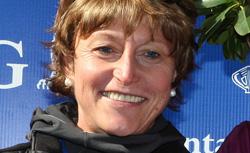 Like so many women born after the passage of Title IX, when I strap on my sneakers most mornings I take completely for granted how much I've been supported in my athletic endeavors. But it's good to be reminded that there was a time in the not-too-distant past when women weren't encouraged to run-and it is with great sadness that I read about the death of marathon-running trailblazer Grete Waitz . She was not only a fantastic athlete-she set the world record in 1978, and won the New York City marathon a total of nine times*-but she made it her duty to inspire other women. In 2004 she told Runner's World , "My goal has always been to introduce other people to running…They might accomplish something they never thought they could."
The New York Times covered Waitz's 9th New York City marathon back in 1988, and that article illustrates how she helped usher in the running craze: When she ran her first marathon in '78, there were 981 women at the starting line. In '88, Waitz was signing autographs for fans, and there were almost 4,500 women competing. Even the writer Susan Orlean tweeted this morning that Waitz inspired her to start running two decades ago. I know the next time I head outside for a jog, I'll be thinking of Waitz and picking up my pace.
Photograph of Grete Waitz by PhotoRun/New York Road Runners-Pool/Getty Images.
* Correction, April 19, 2011 : The original version of this sentence said that Waitz ran the marathon nine times. She won it nine times.

---