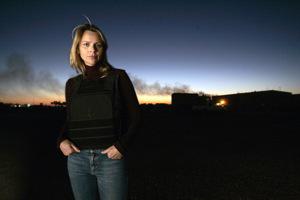 Lara Logan has broken her silence about the brutal attack and sexual assault she received while covering the Egyptian revolution. For 40 minutes, a mob of around 300 men beat and gang-raped her. "What really struck me was how merciless they were. They really enjoyed my pain and suffering. It incited them to more violence," she said in an article in the New York Times- a fuller piece will air on 60 Minutes this Sunday. She further said that as a reporter she had paid little attention to the daily assaults and harassment women in Egypt and other countries endure and that the violence against her was an awakening.  "When women are harassed and subjected to this in society, they're denied an equal place in that society. Public spaces don't belong to them. Men control it. It reaffirms the oppressive role of men in the society."
Female equality is going to be one of the great challenges of the uprisings we're seeing across the Middle East. Will women in Muslim countries in which female oppression is standard and often part of official policy become fully free citizens as these revolutions unfold? One of the reasons frequently cited for the lagging economic status of many Muslim-majority countries is the difficulty women have in getting an education, and their inability to be full participants in the public sphere. The intellect and energy of half the population is lost. But as Logan's attack shows, this is more than the result of rigid gender roles. It reflects a society in which the threat of violence means women live with a sense of looming fear.  Many people welcoming the overthrow of the corrupt Shah of Iran hoped the revolution would be a fresh start. But one of the first things the mullahs did was tell women to cover themselves and go home. If more uprisings succeed, the role of women will provide the first sign of what to expect out of a new order.
Photograph by Chris Hondros for Getty Images.
---