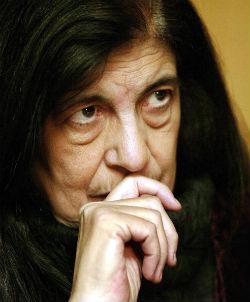 An account of Sigrid Nunez's relationship with Susan Sontag, Sempre Susan is fascinating on two levels: first, for what it reveals about Sontag herself, and second, for the way that Nunez dramatizes herself as a young woman soaking up Sontag's erudition while simultaneously striving to carve out a career for herself. It's not just a revealing book about the iconoclast (though it is that; on the first page we learn Sontag thought that being punctual was "servile"), but also the latest addition to a fascinating, thorny subgenre, the "friendship memoir"-books by women about female writer friends who have died, among them Ann Patchett's Truth and Beauty: A Friendship (2004) and Gail Caldwell's Let's Take The Long Way Home (2010). Each of these books, Nunez's included, offers an unusual vantage onto how women relate to one another as they seek to make work and make their way in the world.
Sontag was a mentor to Nunez, insofar as she could be a mentor to any young woman. Nunez met Sontag in 1976 when she was 25 and Sontag was 43. A former editorial assistant at the New York Review of Books , Nunez had just graduated from the Columbia MFA program when Sontag, recuperating from a radical mastectomy, hired her to help her manage the piles of correspondence that had accumulated during her illness. Sontag was a master avoider, and Nunez instead spent most of the day in Sontag's penthouse listening to Sontag talk on the phone, eating lunch (Cream of Mushroom soup, diluted with milk), and telling her what it had been like to work for the New York Review 's editors, whom Sontag revered. Shortly thereafter, Nunez started dating Sontag's son, David Rieff, and all three began living together in the apartment, where Sontag talked and talked to Nunez about movies (Ozu, Kurosawa, Godard) and books ("The last first-rate American novel had been Light in August "). Nunez (then trying to write her early fiction), Sontag pronounced, should be more elliptical and streamlined in her own prose: "If there's one thing that modernism has taught us, it's that speed is everything."
An acclaimed novelist in her own right, Nunez manages to be neither falsely reverential of her erstwhile mentor nor dishily diminishing. What emerges is a vision of the human behind Sontag the intellectual. This isn't a critical study; it offers little analysis of Sontag's work per se. But Nunez embeds her critiques and revelations with a novelist's compassionate sense of the way each of us is stuck, for better or for worse, with our own character. Of Sontag's famous fear of being alone, Nunez notes:
When she came home, though it was late, though David and I might be already in bed, she would knock. "May I come in?" (The shyness in her voice through that closed door was heartbreaking.) …. She would settle on the sofa, light a cigarette and begin telling us about her evening. I sometimes fell asleep while she was still talking.
The figure who emerges is by turns supercilious and needy; insatiably engaged by books, but terrified of solitude; pained by her breakup with a longstanding female lover yet not terribly insightful about others' romances; a gifted reader of texts who nonetheless thought it might not be desirable for her son to view her as a "goofy older sister"; and a fierce individualist who had extremely developed views on how a woman ought to comport herself if she wanted to be taken seriously. Too many smart women, in her view, were "fettered" by femininity. Memorably, Sontag tells Nunez not to carry a purse and explains that she shouldn't bother with "so many pairs of underwear"-instead she should "own just one or two pairs and wash out the ones you wore before going to bed each night."
Of course, this is also the story of Nunez coming of age and finding her own way as an artist, and following this trajectory makes Sempre Susan much more than a gossipy behind-the-scenes account; it's instead a story about how one female artist profoundly influenced another, not only by being "exemplary" but also by revealing herself as flawed and human. Sontag once wrote about feeling estranged from the "Susan Sontag" who stood on the spine of the books she had written. In Nunez's Sempre Susan , the gap between the writer and the person who wrote the books is made all the more vividly real-a reminder of the extraordinary transformative work that goes into writing in the first place.
---