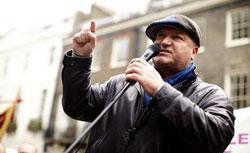 They say that people look like their dogs so I am not surprised when Bob Crow tells me he owns a Staffordshire bull terrier, a breed used by London street gangs to intimidate their enemies. Britain's most famous trade union leader has an alert, pugnacious face, shaved head, and a thickset build from, he says, working out six days a week. I ask him how much he can benchpress. "One hundred and twenty kilos," he says, casually; it is almost double my weight of 70kg.
"You must weigh more than that, surely?" he says, arching his eyebrows as he settles into our plush red booth at Rules restaurant in Covent Garden.
Over the past decade Crow has, as the general secretary of the RMT (Rail, Maritime, and Transport Workers) union, regularly brought London's transport system to a standstill through industrial action. He has been described as "The Most Hated Man in London" by the London Evening Standard newspaper, while the city's mayor, Boris Johnson, called him "demented" and has so far refused to meet him. Later Crow says he will eventually meet Johnson "at his funeral." He is joking, probably.
Yet he argues that he is misunderstood, a bit like his dog, named Castro after one of his political heroes. "He's better-looking than me," Crow says sentimentally. "He is as soft as anything; he's part of the family. When he dies I will be absolutely heartbroken, I have to admit. He's a lovable oaf."
What of Crow himself? Is his bark worse than his bite? "I'm a friendly bloke and always treat people as I find them, I always say please and thank you," he says in his soft-spoken Essex accent. Does he ever hit people, I ask? "When did I last punch someone? I can't remember. School?"
Rules, established in 1798, claims to be London's oldest restaurant and serves traditional British food such as oysters, pies, and venison. On the wall above Crow's head are several pairs of antlers, while behind his burly shoulders are two stuffed birds, a jay and a pheasant.
A "hunting, shootin', fishin' " establishment in Covent Garden seems an unlikely bolthole for a union boss but, though Crow might not dress like a typical Rules regular—he wears a blue shirt with the top buttons open to expose a gold chain and thick grey chest hair—he is so familiar with the menu he hardly bothers to look at it before ordering a crab salad and halibut and chips. I also pick the halibut, with potted shrimps to start.
"Nell Gwynne and King Charles used to use a room up there," he says enthusiastically, indicating the floor above. He then offers a bit of gossip. "We had a summit here four, five weeks ago, and we were in the room upstairs, and the waiter said, 'You know who was sitting there recently? Tony Blair was sitting in that chair you were sitting on, with Gordon Brown.' "
Crow is not a fan of either of these former Labour prime ministers, whose party was founded by—and is mostly funded by—the union movement. In fact, the RMT was disaffiliated from the party seven years ago during Blair's time in office, for a minor rules breach involving a donation to the Scottish Socialist Party. Neither is he impressed with Labour's new leader Ed Miliband. "He seems middle of the road; he needs to grit his teeth a bit more and start taking them on; he needs some steel."
Crow's exile from the center-left mainstream has allowed him to build his own podium. While other unions curbed their criticism of the Labour government over the past decade, he felt no such restraint. With about 80,000 members, the RMT is a relatively small union compared with, for example, the 1.5 million members of Unite. But it punches above its weight. Does it strike more than the other unions? "I bloody well hope so," he says.
With Britain's new  coalition government embarking on its  deepest cuts program for generations—sweeping redundancies; pay freezes; and the closure of libraries, swimming pools, and public toilets—headlines are predicting an imminent clash with the unions to rival the battles of the 1970s. Yet many union leaders fear that there is little appetite among their members for industrial action. For now, their plan centers around a mass rally in Hyde Park this weekend—with hopes of around 100,000 protesters. Crow is of two minds about the rally—"It will come and go and there will still be cuts"—and is among those agitating hardest for a full-on industrial campaign against the cuts. At last autumn's annual Trades Union Congress, he used a typically tub-thumping speech to call for a campaign of "civil disobedience."
On the day we meet, late last month, he has been on the airwaves denouncing the  government's slow response to rescuing its citizens from Libya. I ask him how he feels about the uprisings in North Africa and the  Middle East and whether there are any lessons for this country. "People are only political when something happens to them," he ruminates. "Once an idea is ready to happen, and it's ready to hatch, it happens, and that's just happened in Libya and Egypt. It's just happened."
Recent British demonstrations have been on a relatively trivial level. But Crow was struck by events last November, when thousands of  youths enraged by an imminent rise in university fees took to the streets, fighting against lines of police. "Students got their faces on everyone's breakfast table [in newspaper headlines]. Whether you agree with them or not the issue of student fees became a big deal," he muses. "I'm not into smashing things up but the suffragettes went around smashing windows to get the vote and it worked."
Crow has a bust of Lenin in his office and embraces communism, though his priority is not so much a Soviet-style state as ensuring "opportunities for all." A "utopian society" where everyone is earning the same amount of money would be unrealistic, he admits; lucky, given his own six-figure remuneration package. Brain surgeons deserve more than general secretaries, he says. He just wants everyone to have a chance to be a brain surgeon. So is he really a communist? "Just because you go to the Virgin Islands doesn't make you a virgin," he says bafflingly.
He believes in aspiration, but only up to a point. "They should ban private schools and private health. It's OK if someone wants to spend money on a car or a holiday but when it comes to health and education that's a different matter," he argues.
Other elements of his political philosophy include an aversion to free trade and a desire for much heavier import and export duties. He insists: "They say the only way that we can compete now with China is making robots build cars. Now, that might be cheaper, but if you have robots build cars, how are robots going to buy them?"
He says he is not one of those left-wingers who opposes all cuts, castigated as "deficit deniers" by the government; instead his proposed alternative to the cuts is a one-pence tax on all emails. According to Fullfact, an analytical website, this would only raise £12 million a year—not exactly enough to plug the U.K.'s deficit.
Our starters arrive. My potted shrimps are deliciously buttery and come with just the right amount of toast. We are drinking tap water from a jug. Crow is off cheese, bread, and alcohol for a month, an annual test of discipline. "No vodka, nothing at all. I'm on Ramadan at the moment. I feel terrible for it, to be honest with you," he says.
Crow was born in 1961 in Wapping, east London. His father was a docker who advised him to read the Morning Star and the FT—and to believe the opposite of everything the pink paper said. When he was 4 the family moved to suburban Essex; he is still there, in Woodford.
He has spent his working life in the rail industry and the unions—he got his first job on the London Underground at 16—and doesn't hold a driver's license. The worst job he ever had was "rodding drains" deep in the Underground as a 19-year-old. "There was a stench; it was full of rats, all kinds of sexual contraceptives you could think of; we used the long rods to clear out debris and leaves from the drains along the lines."
It is not the most fortunate image to have in our heads as the main course arrives; two large slabs of grilled fish with hot, golden chips. But the halibut is thick and tastes smoky and firm while the chips are perfect. "That's the healthiest fish you could have, halibut," he observes. "Full of oil, good for everything, bones, joints, healthy glow."
His greatest negotiating triumph, he says, came in 2001 when he won long-term job security for London Underground workers as the service was part-privatized. It was a deal criticized by some in the press as a "job for life" agreement. According to Crow, after weeks of grinding talks, management just gave in, saying: "Please, just give them whatever they f***ing want."
It's easy to see why transport executives and politicians would dislike this kind of stubborn brinkmanship. But why, I ask him, do others hate him? ("I'd love to get my hands around his neck," said one colleague as I left to come to Rules.) The question doesn't faze him: "I travel on the Tube every day and don't get any aggravation," he says, though this may be because he looks like a bouncer who could kill other humans with his bare hands.
"Some people obviously dislike me and what we're standing for, I accept that," he concedes. "But 10 times that amount of people come up and shake my hand." The most recent bad press around Crow was that a Tube strike might deliberately be called at the time of the royal wedding in late April, an abhorrent concept to Middle Britain. I suspect he's just winding people up.
"Haven't been invited," he says of the wedding, polishing off his last chip. "Was waiting for the postman to come but Tara Parker [I think he means the socialite Tara Palmer-Tomkinson] got it instead. I have not arranged to call a strike on the royal wedding; however, if there is a strike, we can't really say that that strike won't happen on the same day."
A waiter brings dessert menus but accidentally drops them over Crow, leaning over to pick them up: "I've only come 'ere for a meal," he wisecracks, and chooses sponge pudding. I order a plum trifle.
For all his macho hobbies—he is a boxing fan and a supporter of Millwall Football Club, whose fans' favorite chant is: "No one likes us, we don't care"—Crow has one surprising pastime: the weather. "It just amazes me how they can tell where low pressures are coming from, high pressures are coming from," he marvels. "On Wednesday, they said, 'There will be heavy rain.' Thursday, they said, 'The temperature could change overnight'—and it was spot on." I'm going on holiday up north tomorrow, I tell him, and ask if I'll get rain: "Who cares?" he replies, "I'm not in Yorkshire."
So, what of the political weather? Will there be a breakdown in industrial relations in the coming year? Crow reckons that 5,000 of his members are at risk of redundancy. He predicts that rising food and energy prices will coincide with pay cuts and redundancies to create febrile conditions: "We're going to see an explosion," he says.
"All of a sudden, they'll be disputing in one particular industry, and there'll be another dispute and another dispute; I can't say when it will happen or how it will happen, but there will be a spark, and it will take off."
Drumming his fingers on the table, he says he is not planning to coordinate strikes with other unions. But he adds: "If there are disputes in rail, shipping, or bus industries and other transport industries at the same time over cutbacks, we would be fools not to coordinate the timing."
He seems bemused that he is cast as the bad guy when the likes of Bob Diamond, chief executive at Barclays, are paid  "scandalous" salaries. Yet his views on the city are less straightforward than what you might expect from the caricature—an impression created by Crow himself, who has castigated bankers as greedy "spivs."
I ask what he would say to his four grown-up children if they had gone into banking. The response rather undermines the Bob Crow of popular folklore. "Good luck to them. I have never interfered; I have never said to them do this or that." Really? Wouldn't he give them an earful? "No. They have to live their lives."
Crow then reveals that his brother is a stockbroker who lives in commuter belt Berkshire. They get on fine, he says. "I have differences with him. He's made a lot of money; he's stock market, dividend first, and the rest comes after. We're good mates but we're chalk and cheese." Then he deadpans: "I hate him much more for supporting Arsenal."
This article originally appeared in Financial Times. Click here to read more coverage from the Weekend FT.
---