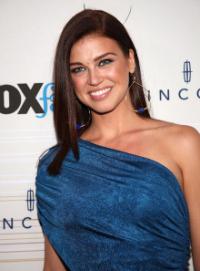 The big TV news today is that Friday Night Lights actress Adrianne Palicki has been cast as Wonder Woman in a reboot of the 1970s series starring Lynda Carter. The press release from Warner Brothers Television, the production company remaking Wonder Woman, says the new series will be quite different from the original: "Wonder Woman is a vigilante crime fighter in Los Angeles but also a successful corporate executive and a modern woman trying to balance all of the elements of her extraordinary life."
In the earlier televised versions, the lead character was a magical Amazon who was variously an Army nurse and a secret agent named Diana Prince when she wasn't donning the iconic Wonder Woman duds. Those professions seemed more in sync with a secret life as a crime fighter. But in this rewrite, Wonder Woman's daytime identity isn't about saving lives or rooting out crime-it's about making money. It's sort of a Sex and the Citified version of Wonder Woman for a more materialistic culture. Sure, you can fight crime in your spare time (you can have it all, ladies!) but make sure you're killing 'em in the boardroom so that you can afford that sweet Wonder Woman outfit.
Photograph of Adrianne Palicki by Frederick M. Brown/Getty Images.
---