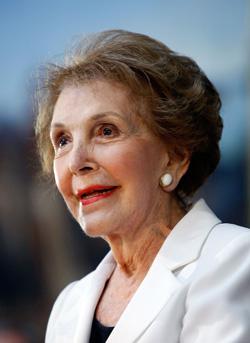 In honor of Ronald Reagan's 100th birthday, PBS will air an hourlong documentary about his wife, Nancy, this Sunday at 10 p.m. ET (because who doesn't want to learn about a first lady directly after the Super Bowl?). Narrated by journalist Judy Woodruff, Nancy Reagan: The Role of a Lifetime paints a pretty laudatory portrait of a very controversial woman. The documentary glosses over Nancy's more questionable qualities (her extravagance, her obsession with astrology, her opposition to the Equal Rights Amendment) and instead says that it was Nancy who got Ron into the Oval Office. One of Reagan's former advisers even says, "He would never have become president without her."
Reagan's political career began when he was a television host. Nancy started palling around with the wives of wealthy Republican movers and shakers in Los Angeles-and these women and their husbands would financially support Reagan up to the White House. When Reagan became governor in 1967, Nancy was dinged in the press for being elitist and old-fashioned. The Saturday Evening Post ran a profile of Nancy that described her as "a woman who seems to be playing out some middle-class woman's daydream circa 1948" and called her smile "a study in frozen insincerity." Meanwhile, Reagan adviser Stuart Spencer said that behind the scenes, Nancy was anything but the retiring housewife. "She was the human resources department," Spencer says. Nancy "made decisions on who was going to be around him from the campaign to the governor's office to the White House."
Most intriguingly, the documentary argues that Reagan got into the Iran Contra debacle (when the government gave arms to Iran in exchange for hostages) because he did not listen to HR guru Nancy. In his first term, Reagan chose the Nancy-friendly James Baker as his chief of staff, so Nancy had a direct line into the power structure of the White House. In his second term, Baker was replaced by former secretary of the treasury Donald Regan. Nancy never liked Regan, and Regan did what he could to keep Nancy out of official business. It is subtly implied that if Nancy had been in the inner circle at that time, Ron would not have taken any public heat for the arms-for-hostages deal.
After Reagan's poll numbers went plummeting in the wake of the Contra scandal, Nancy was the one who encouraged her husband (through one of his advisers) to come clean with the American public and to apologize. The will of the first lady is portrayed as the driving force behind the famous speech in March of 1987 -the drubbing Reagan was getting in the press and the release of the highly critical Tower report in February 1987 are mentioned as secondary reasons for Reagan's apology. Nancy's biographer Lou Cannon says that by telling Ron to talk to the American people, "Nancy rescued the Reagan presidency."
I can't tell whether the documentary is overselling the case of Nancy's importance to Ron's career-it certainly does highlight her successes and minimize her flaws. For example, her much-mocked love of astrology is mentioned, but its craziness is downplayed: A Reagan crony says that only Ron's schedule was changed to accommodate the astrological charts, never personnel or policy decisions, as if that makes it less insane.
What I find remarkable is that retiring political wives are so thoroughly out of fashion. Even though when Ron was in office, Nancy would say that all she ever wanted to be was a wife, it's clear that she's no longer singing that tune. It also reminds me of the way people were talking about Elizabeth Edwards when she died. The dominant narrative was that Elizabeth was the brains behind the operation. Daily Rundown host Chuck Todd went so far as to say Elizabeth " should have been the candidate ," not John. The Role of a Lifetime stops short of saying that Nancy should have been the one running for office, but it certainly makes you believe that if she had been born 40 years later, she'd be stomping down the Mama Grizzly path.
Photograph of Nancy Reagan by Win McNamee/Getty Images.
---