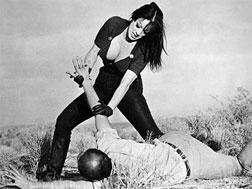 Grab a black armband, girls! Last week a great style icon popped her clogs. I'm talking about Tura Satana, the toughest B-movie bitch of all time. If you have never watched her ignite the screen in Russ Meyer's black-and-white 1965 masterpiece Faster, Pussycat! Kill! Kill!, then you are in for a serious sexploitation treat.
This shocking and improbably beautiful movie features the nihilistic antics of three inexplicably pissed-off go-go dancers: Billie, Rosie and their leader, the wicked Varla, played by Satana. Spewing venom and sarcasm at every turn, this karate-chopping avenger makes Pussy Galore look like Rebecca of Sunnybrook Farm: "I never try anything. I just do it. I don't beat clocks. Just people. Wanna try me?"
Even more noteworthy than her snarling delivery is her appearance: With cat eyes, Spock brows, jet-black bangs and skin-tight biker drag, she reeks of high-class, sadistic glamour. The effortless panache of her kinky-but-chic attire presages the graphic stretchy glamour of Azzedine Alaïa, Donna Karan, Hervé Léger et al. Her super-stylish hotness— Bettie Page meets Dita Von Teese—is a beacon of inspiration for any gal looking to amp up her graphic allure. Check out this Pussycat/Rihanna mashup, and you will see exactly what I am talking about.
As one watches Ms. Satana it is hard to escape the conclusion that the wicked temptress is playing herself. This impression is borne out by the facts of Satana's extraordinary life. Japanese internment camp toddler, gang-raped teen, under-age burlesque queen, Elvis paramour, karate champ—Tura was, if you will excuse the outdated show-biz expression, "a whole lotta people." According to later interviews with the actress, the brutality of her hardscrabble back-story provided much of the motivational rage for her man-mangling performance in Pussycat.  
Though I never met Ms. Satana, I did, while living in West Hollywood in the late '70s and early '80s, have the privilege of hanging out with a number of other bodacious Russ Meyer lovelies, including the director's wife and bustiest star, Kitten Natividad. She performed nightly at a Sunset Boulevard bôite named The Body Shop, conveniently located within staggering distance of my West Hollywood apartment. This was back before table service and raining dollars, when under-patronized strip clubs were surprised when anybody walked through the door. With its friendly bar and greasy food, The Body Shop was my local. On nights when she felt like a little company, Kitten would invite me and my pals back to her dressing room where she would reminisce about lensing (another outdated show-biz expression) Beneath the Valley of the Ultra-Vixens while moisturizing her stupendous silicone breasts.
And the beautiful Erica Gavin, most noted for her work in Vixen and Beyond the Valley of the Dolls,was also a chum, and eventually a colleague. She and I worked retail together. One day I asked her about Tura. "We used to pastie together," she replied, with a shocking and glamorous nonchalance. WOW! Once Erica and Tura pastied together, and then Simon and Erica schlepped together. Who said I would never amount to anything?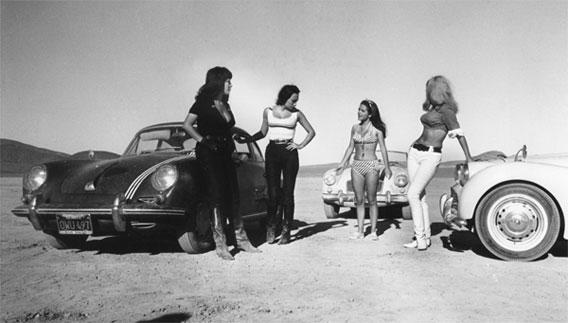 John Waters, whose admiration for all things Russ exceeds even my own, shared a more recent Tura encounter, also via e-mail last week: "I met her just last year. She was robust, funny and loved being a cult star. I got the feeling she had dressed the way her fans wanted (Varla in Pussycat) but may have looked different in her "other" daily life back in Reno. Nothing tragic about her. A great gal!"
John and I are committed to keeping the Meyer oeuvre front and center in our culture. This has, in recent years, become an uphill battle. The sexploitation genre is not really speaking to the current generation. There was a time when the soft-porn antics of Russ Meyer were de rigueur for any movie buff. Now that our entire culture has turned into a Girls Gone Wild spray-tanned orgy, and all the Pussycat Dolls and Housewives of hither and yon resemble a bunch of rejects from one of Russ' old casting calls, the Meyer oeuvre has lost much of its power to shock. If you want to see a bit of campy soft-porn, just click on your TV.
As similar as many of today's reality-show hoochies are to the Meyer mavens of yore—compare Atlanta Housewife Kim with Beyond the Valley of the Dolls star Edy Williams—nobody today has the wicked originality and the chien of the fabulously feminist Tura. And now she has left us, her soul doubtless floating somewhere beneath the ultra-valley of the über-beyond. I hope to go there when I pop my clogs and pay a visit.
Like Slate on Facebook. Follow us on Twitter.
---