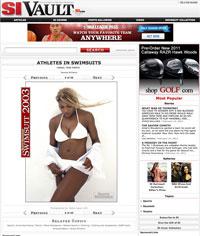 As Sports Illustrated prepares to release their 2011 swimsuit issue, let us take a moment to lightly praise the sports magazine for promoting the notion that uber-athletic female bodies are just as sexy as the frames of lanky Brazilian models like this year's cover hopeful Cintia Dicker . Whether or not you approve of the vaunted swimsuit issue's "minivan cheesecake" aesthetic (as it was cleverly named by Slate 's Bryan Curtis ), one must concede that the devoted ooglers of SI will find a greater range of body types than most mainstream men's or women's magazines.
Save the occasional "shape" issue from Vogue with its token appearance from someone over 115 pounds, Sports Illustrated 's swimsuit issue is one of the few places you will see the delightfully muscular form of Olympic softball player Jennie Finch alongside the awesomely Amazonian proportions of Serena Williams . As Hanna Rosin argued last year in an article about bikini-clad Lindsey Vonn , the skier is no wispy little thing-her super strong legs "look like they could easily shove a truck down a hill." When in the fashion industry, anyone above a size 8 is in the plus size division, it's good to see a bit of diversity on display.
I'm not saying that the swimsuit issue is some font of total body inclusiveness-I'd be surprised to see a female shot putter or weight lifter, or someone who truly challenged the viewer's idea of female beauty. But when even the so-called women's fitness magazines are promoting a "neurotic thinness," as this Jezebel post astutely points out , seeing athletic bodies promoted by such a widely-read publication is heartening.
Update, Feb. 14, 2011: This year's swimsuit issue cover girl has been announced, and it is Russian model Irina Shayk . It's worth noting that there are three athletes featured in this year's magazine : pro surfer Bruna Schmitz, javelin thrower Leryn Franco, and Olympic volleyball player Kim Glass.
---