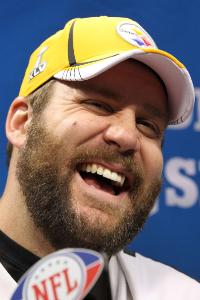 The NFL loves loves LOVES having two weeks between the conference championship games and the Super Bowl. Two weeks of free publicity, erm, I mean news coverage. Two weeks to fete the sponsors. Two weeks for people to buy jerseys and banners and team-logo beer cozies. But for the rest of us, it's two weeks of the same stories over and over. And over.
Even the most die-hard fan is now completely bored by the latest breathless update on Maurkice Pouncey's ankle . (Which, unlike Clay Matthews' beautiful hair , surprisingly does NOT appear to have its own Twitter account.) But the story line I'm most weary of is Ben Roethlisberger's "amazing" comeback from a four-game suspension to lead the Steelers to their 18 th Super Bowl appearance in the last five years (or so it feels like).
While watching ESPN the other night, I noticed on the crawl something to the effect that all the Steelers, to a man, pinky-swore that they had supported Roethlisberger during his suspension for "violating the league's conduct policy."  ESPN.com ran a glowing column by Michael Wilbon that heaped praises on Roethlisberger for overcoming the ardous of challenge of …. Media Day.
Let us remember, Roethlisberger didn't  "violate the NFL's conduct policy" by getting into a bar fight or smoking pot during the offseason or by getting too many speeding tickets. No, he got in trouble when he was accused of rape . And not for the first time .  I admit, I was skeptical when a woman sued him for assaulting her in a Lake Tahoe hotel room, because a deposition from a friend said the accuser bragged about having sex with him . But-fool me once, shame on you. Fool me twice, shame on me.   Roethlisberger was never charged for the Georgia incident, but NFL commissioner Roger Goodell slapped him with a six-game suspension (later reduced).
And now the media can't stop talking about Big Ben. Look, I don't have high expectations that ESPN will be hard-hitting or even objective about this kind of thing. (Earlier this week, former Steeler and current ESPN analyst Merril Hoge appeared on TV wearing a black suit and gold shirt and tie. Star athletes that bring in the ratings get handled with kid gloves, no matter how stupidly they act-see Favre, Brett; Woods, Tiger;  etc.) But it would be nice if they could call a spade a spade. Instead of saying that Roethlisberger's teammates stood behind him when he violated the conduct policy, say they stood behind him when he faced rape allegations. Skip the weepy piece about how he did a marvelous job handling the press.
Many years ago, I had a subscription to ESPN the Magazine . I canceled it when, after the U.S. women won the soccer World Cup in 1999, on U.S. soil, the magazine chose to put convicted rapist Mike Tyson on the cover of the next issue. (Who'd have thought they'd have missed the opportunity to show Brandi Chastain in her sports bra?) It doesn't seem like much has changed.
Photograph of Ben Roethlisberger by Ronald Martinez/Getty Images.

---