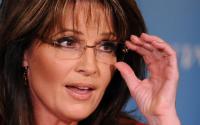 Matt Lauer's got company today on the political-mother shaming front: Rick Santorum.
Santorum is one of the possible GOP hopefuls for the '12 presidential nomination, along with Sarah Palin, of course. She decided at the last minute not to attend the conservative conference CPAC (she hasn't actually showed up the last few years, in fact-it's become a bit of a tradition for her to cancel). Santorum seized upon the no-show as an opportunity to criticize Palin, who's a hit among the same far-right base he'd be trying to appeal to in a run. First, in an interview with conservative S.E. Cupp, he hinted at her celebrity profiteering : "I have a feeling that she has some demands on her time, and a lot of them have financial benefit attached to them." This is not an unfair criticism-but his next one was. He pretended to offer a more understanding take on why Palin might be unable to come. "I don't live in Alaska and I'm not the mother to all these kids and I don't have other responsibilities that she has." (Itals mine.)
Santorum happens to be the father to seven children-one might assume no matter the parenting balance in the Santorum household, he does, in fact, have some responsibilities in addition to attending CPAC. But more interesting here is the criticism he's subtly rescuscitating. In '08, one of the few things many women on both sides of the aisle could agree on re: Palin was that she had steamrolled over the expectation that women could only go into politics in a big way once their kids were raised, and this was a good thing. Republican women and consultants told me this fall over and over again that seeing her up on the stage at the 2008 GOP convention with her young kids was a moment that everything suddenly looked different, more possible for them. It's how the whole Mama Grizzly movement began, this version of conservative feminism that we found vexing and powerful all at once. Maybe Santorum's comments were a one-off from a sui generis conservative, or maybe it's a sign that the good 'ol boys on the right (and perhaps the left, too) are no longer quite as entranced and stymied by the possibility of grizzly power.
Photograph of Sarah Palin by Robyn Beck/AFP/Getty Images.
---