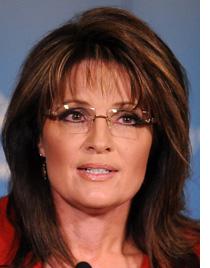 Never let it be said that Sarah Palin allowed an insult to slip by without comment: Yesterday, after Rick Santorum subtly undermined the ex-Alaska governor for being a mother with a career ( if not a job, precisely, at the moment), she fired back directly at the charge with a grizzly-feminist brio, in an interview with Sean Hannity: " Just because I'm a mom that does not mean that I didn't want to be there. … I'm the proud mother of five. My kids don't hold me back from attending a conference." And then, in classic Palin style, she added, "I will not call him the knuckle-dragging Neanderthal. I'll let his wife call him that instead."
As comebacks go, it's a good one: His comment was indeed a retrograde one. (Grizzly battle cry "man up" obviously only applies to homo sapiens.) But I wonder what would have happened if Palin had taken the high road. Several professional Republicans I spoke to recently (who'd formerly been big Palin boosters) said that they are increasingly bothered by her quickness to play the victim card and the pleasure she apparently takes in squabbles like this one that keep her in the news. Perhaps she won the round, but if Palin's really serious about going for the 2012 nomination (and who knows if she is?), resisting the mudslinging urge for a bit might be a smart move.

Photograph of Sarah Palin by Robyn Beck/AFP/Getty Images.
---