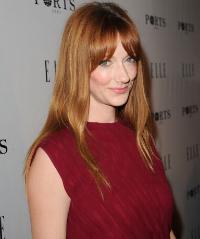 Even if you don't think you know who Judy Greer is, you probably recognize her: She is a perpetual rom com sidekick, shining in thankless roles like Katherine Heigl's best friend in 27 Dresses , Jennifer Garner's frenemy in 13 Going on 30 , and J.Lo's assistant in The Wedding Planner . She is best known (in my heart) as Kitty, the psychotic, wonky-boobed secretary from the beloved TV show Arrested Development . Greer is an excellent comic actress, and she elevates even the crappiest material.
Which brings me to the borderline repellent new sitcom Mad Love (CBS, Mondays at 8:30 p.m. ET), in which Greer plays, what else, a sidekick. It's a watered-down version of its lead-in How I Met Your Mother , and like that show, Mad Love is about star-crossed lovers among a group of young friends in New York City. The pilot revolves around the meet-cute of the two leads: Kate Swanson (Sarah Chalke) and Ben Parr (Jason Biggs). Kate is the kind of girl who says things like, "I smell like tinkle!" and we are supposed to find that endearing. Parr has no personality beyond his desire for Swanson. The show is narrated by Ben's bro, the aptly named Larry Munsch (Tyler Labine) who is hairy and boorish. He describes Kate and Ben's meeting as a fairytale, saying, "If fairytales have taught us anything-besides the fact that it's ok to kiss a girl when she's unconscious-it's that timing is everything." A tired rape joke in the first ten minutes. Charming!
In this morass is Judy Greer, who plays Kate's best friend, the unfortunately named Connie Grabowski-a nanny to a "rich trophy wife" whose role in Mad Love is to play "fairy godmother" to Kate's princess. Literally. They say those words in the show: princess, fairy godmother. Even though Greer is often relegated to sidekick status, this part is particularly fruitless. There's one part of the show, she stuck with two screaming babies in the back of a cab, after Kate and the trophy wife have left her to pay. "My life isn't panning out," she says aloud. And how.
In all fairness, Greer did have one shot at a lead television role-on the 2008 show Miss Guided . In that show, Greer was a high school guidance counselor at the school she had attended as a teenager. I liked it, but not that many other people did: It was cancelled in its first season. I believe that Greer deserves another shot as a leading lady, but if she's going keep getting these sidekick roles, she deserves much, much better ones.
Photograph of Judy Greer by Todd Williamson/Getty Images.

---