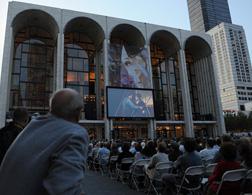 Opera. The word is little more than a disclaimer. No one can argue that it stands for one thing or another because, as the plural of the Latin root opus (meaning "work" or "labour"), it justifies a mongrel art form. Throughout its history, it has presented a seductive synthesis of poetry, dance, music, art and architecture – in fact, opera's greedy consumption of other genres is, perhaps, its one enduring trait.
More recently, it has enjoyed a lengthy flirtation with film. As well as encouraging the use of video techniques within the theatre, opera companies have invited a host of filmmakers to direct opera productions – from Luchino Visconti's 1958 staging of Don Carlos at Covent Garden to Abbas Kiarostami's Così fan tutte at English National Opera in 2009. Some of these projects have been noble artistic endeavours, others have been crass attempts to import "cool" – but there's no denying that the trend is a popular one.
On the flip side, however, it's a different story: opera has had little representation in the cinema, largely because it was superseded by film as the primary mode of cultural expression. Apart from a handful of notable exceptions, Ingmar Bergman's luminous 1975 film of The Magic Flute among them, opera has simply been exploited by mainstream cinema as an emotional scene-setter. In Wall Street (1987), hot-shot trader Bud Fox sings along to the swaggering party aria from Rigoletto against a backdrop of 1980s excess; in Pretty Woman (1990), Julia Roberts's Hollywood hooker is charmed by the courtesan Violetta during her evening at the opera house; and in Closer (2004), the trio from Così fan tutte is used to add poignancy to Patrick Marber's tangled love story – as well as the cheeky implication that "women are like that".
Multimedia advances over the past decade have, however, encouraged a widespread cultural blurring, and opera is now enjoying a flourishing relationship with cinema. Two upcoming projects from Royal Opera and ENO demonstrate the extent to which opera houses are prepared to invest in this development.
With 3-D all the rage in popular cinema (there are more than 30 3-D films scheduled for release this year), both companies have sought to harness the power of this new technology. ENO is presenting a live 3-D screening of its new Lucrezia Borgia, to be shown on Sky3-D and in selected UK cinemas, which will blend the on-stage performance and video elements. Meanwhile, the Royal Opera House has worked with RealD on a pre-recorded 3-D film of its repertory Carmen, to be screened in cinemas around the country. On the face of it the latter project seems the less ambitious of the two but, as the simpler model – a control experiment, if you like – it is likely to have the greater influence.
Already the Metropolitan Opera has set a high bar. Since 2007, the New York opera house has transmitted live satellite broadcasts of its productions into cinemas around the world with great success. Lyn Goleby, managing director of Picturehouse Cinemas in the UK, says: "We jumped into the scheme with both feet. Because we have an arts audience, we were pretty sure we would have an opera audience." The tickets, at £25, are not cheap but performances are often sold out well in advance and people are prepared to queue to secure a booking. "It's an amazing phenomenon," she adds.
Glyndebourne is another opera house that has developed its cinema profile; in early summer the company will screen L'elisir d'amore, Falstaff, Don Giovanni and The Fairy Queen in cinemas in the UK, France, Italy, Spain, Israel and Japan.
Clearly, the "language barrier", often blamed for opera's inaccessibility, is also one of the keys to its international appeal. As well as cultivating audiences worldwide, however, there is a hope that these cinema screenings will attract a wider demographic at home – and perhaps even restore opera's place in popular culture. It is no coincidence that ROH and ENO are both launching their 3-D initiatives with 19th-century Italian classics. Not only has this repertoire come to represent a time when opera belonged to the people but many of its motifs have entered mainstream consciousness through the classical charts, mobile ring tones and pasta ads. Promotional material surrounding the 3-D Carmen, including raunchy trailers (Carmen has always lured the virgin opera-goer with sex) and breathless promises ("truly a musical event to remember!") certainly aims to contradict opera's high art label.
In many ways, a shift of context will flatter the art form. Those tired arguments – that opera is expensive to produce, that the plots are sexist, the scenes far-fetched, the dialogue inane and the acting hammy – bear less scrutiny on the silver screen. Surely, if audiences were genuinely rattled by such concerns, the Bond franchise would have bombed a long time ago. And what about that perennial gripe about length? The Return of the King, the concluding film from Peter Jackson's hugely successful Lord of the Rings trilogy runs well over three hours, and yet no performance from Wagner's Ring would require audiences to sit for that length of time without an interval – and the chance to anaesthetise themselves at the bar.
But at the same time, shortcomings will be exposed. ROH's production of Carmen, directed by Francesca Zambello, is an exercise in overblown realism, with detailed costumes, large-scale crowd scenes and a menagerie of live animals: it's a style that might be described as broadly cinematic but therein lies the problem. Watching the performance in the cinema one can't help but make comparisons with film, and then note where it falls short. Julian Napier, director of the 3-D film, says he never intended to deny the setting: "I wanted to preserve at all times the notion that this is a live experience." Still, as cinema continues to grow in importance, it will surely influence costume and set designs and, indeed, wider production concepts.
Napier admits as much. "We haven't got to the point yet where [filmmakers] are proscribing what the repertoire will be," he says. "It's still a case of 'this is what's coming up, what can we cherry-pick from it?' But we are nevertheless aware that certain titles are more conducive to the more populist cinema medium."
Another important consideration is the effect that filming has on singers. Opera has always demanded artistry and athleticism but singers now seem like extreme performers, required not only to sing, and often dance, to an exceptional standard, but also to display acting skills that withstand close-up scrutiny. Christine Rice, the British mezzo-soprano who plays Carmen in the film, says the cameras did not put her off – "I did the show I'd normally do" – but admits it took a while to get used to the extra equipment used to capture the 3-D "parallax" image. However, some singers will surely object to less attractive aspects of live performance – flecks of spit, beads of perspiration, assorted wardrobe malfunctions – being recorded for posterity.
"One of the pressures we're under, and this is new, is the physical plausibility," Rice says. "It's just not possible with certain roles. Try and cast Madam Butterfly to look like a 15-year-old girl – it's unfortunate but that's specified in the libretto – because most sopranos cannot tackle that repertoire until at least their late 30s, ideally 40s, when the voice is at its peak. So there are limits to how cinematic we can get."
As far as opera companies are concerned, however, there are a number of incentives to become more cinematic, besides an altruistic interest in opening access. A key factor is artistic and commercial control. In the past – and on the rare occasion that producers deigned to show interest – opera companies would sign up to TV broadcasts of their productions and in doing so surrender their right to manage the material. Increasingly, opera companies have sought to reclaim control and fully exploit the range of media that is now at their disposal. In 2007, ROH acquired the UK's leading classical DVD label, Opus Arte, for £5.7m and since then the company has used it to promote recordings of its own productions and others from elsewhere.
Christopher Millard, director of press and communications at ROH, explains its rationale: "We recognised that with developing technologies there was an opportunity to take greater control over the process rather than handing over to outsiders. And we also have more control over the life of it, so if it has a broadcast on television, we can then take it to cinemas."
Of course, any long-term change will depend on financial returns. If cinema screenings can continue to attract an ever-wider audience, opera companies, always keen to diversify – and to make money – will devote more of their energy and ingenuity to them. One can only speculate about the influence that this development could have on the future of opera itself but there's no doubt that the time-honoured tussle over music and words – prima la musica or prima le parole? – is beginning to sound stale. It seems increasingly likely that in the future, visuals will reign supreme.
This article originally appeared in Financial Times. Click here to read more coverage from the Weekend FT.
---