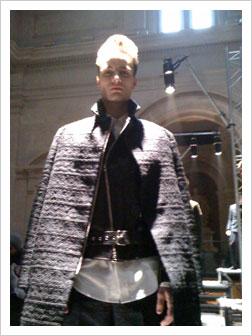 French people are, unquestionably, the snootiest race on the planet, right? Always were, always will be?
Wrong! A new century has ushered in a whole nouveau attitude! Last week I zipped from one end of Paree to the other in my forest-green Moncler puffy coat (it was bloody freezing) and I can honestly tell you that, shockingly, delightfully, I saw no signs of the terrifying hauteur I encountered on my last visit, some 10 years ago.
Instead of that legendary disdain, I encountered nothing but smiles and bonjours. Other than the pinched salesman who upbraided me for attempting to exit the gift shop at the Musee des Arts Decoratifs through the stockroom—his reproach translates roughly as follows: "Where do you think you are wandering, you crazy little person?"—everyone I encountered was tres gentil. (He probably thought I was a malevolent leprechaun, what with the green Moncler and all.)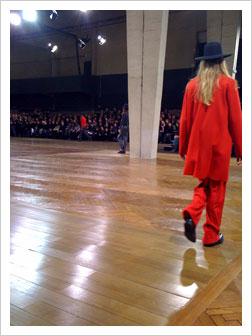 While this is unarguably a seismic shift in the national character, it was, for moi, very much upstaged and eclipsed by another and far more shocking discovery. Hang onto your bound copies of National Geographic! Here comes a total Margaret Mead moment. I'm talking about a whole new tribe, a whole new GENDER!
First let's consider the runway trends: For fall 2011 I saw wide-legged gauchos, floaty floor-trailing cardigans, mid-thigh Janet Reno jackets, Patti Smith-inspired locks … and these fashions were for the men! A willowy and unrelenting androgyny ruled the day at the fall men's collections for Dior, Thom Browne, Ann Demeulemeester, Comme Des Garcons, and just about everywhere else. The look? The boy/girl beauty of Tilda Swinton.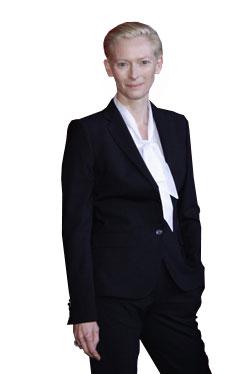 And, hang on to your chromosomes, there's more. This new ethereal gender-bending style—let's call these guys the Tildas—is not just a men-in-skirts runway thing. Au contraire! Everywhere I leprechaun'd about, there were hordes of Tildas in Miss Marple capes with Givenchy handbags welded to the crooks of their arms. On the Rive Gauche I clocked befurred exquisites battling the cold in sauvage cave-woman furs. (Guys! Just take your mum's old silver fox and chop off the sleeves, whoosh it around your shoulders and, voila, you're a Tilda!) At Colette, the trendiest store in Paris, I saw Tildas wearing Rick Owens leathers with Grace Jones-esque hoods, fish-tailed skirts, and bizarre and beautiful ladies' platform boots.
The sheer number of these gender-bending poseurs had me groping for a collective noun, as in a murder of crows. Inventing collective nouns is one of my favorite things to do and I pride myself on having come up with a few doozies: a tassel of gays, a bombast of hedgefunders, a fragrance sensitivity of lesbians, and now, how about … an enchantment of Tildas?
What is prompting this haunting and decorative phenomenon? Here's my theory:
The global popular culture remains in the grip of an escalating porno-chic where aggressively masculine G.I.-Joes-on-steroids chase boob-enhanced blond bimbos who resemble blow-up dolls. "Hotness" is the only currency. As a result, male and female archetypes become ever more cartoony and polarized, much to the horror of Dame Fashion. She prefers chicness to hotness. Always has.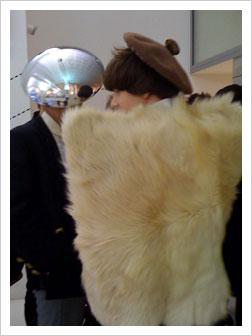 In order to maintain its elitist cred—to mention nothing of justifying those high prices—Fashion has always distanced itself from the cheesy shenanigans of the broader culture. Now, as she confronts the extreme Jersey Shore-ification of our world, Dame Fashion has been forced to rummage deep into the bowels of her Birkin. Here she has found a strange and subtle interpretation of gender, something along the lines of what you might find in the work of art/fashion photographer-du-jour Collier Schorr. It's also evident in women's fashion: Those cadaverously thin Eastern European gals who dominate the high-fashion runways—imagine a 9-year-old girl who just happens to be 6 feet tall—are every bit as subtly gender-elusive as the Tildas.
Back to me in my green: As I scampered through this new and improved City of Light, I was delighted to note the ease with which the Parisians embraced the Tildas. These guy/gals walk freely though the streets of Paris without so much as a quelle horreur! or a cat-call. I would like to think that it's all part of that new kinder, friendlier, gentler French sensibility, but the answer may be simpler. The average French citoyen may simply not have realized that madamoiselle is actually monsieur.
Like Slate on Facebook. Follow us on Twitter.
---