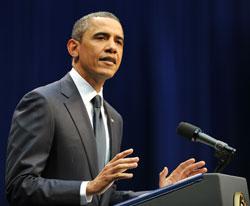 President Obama's speech in Tucson last night should be ranked with his greatest oratorical moments, largely because in the end he was brave enough to sidestep politics and ideology, and speak instead of love, and family, and the need for kindness. He answered two years of enraged Mama Grizzly with 30 powerful minutes of quiet Papa Bear. And in a political season in which the embrace of any traditionally feminine values or language is deemed toxic, the president went right there. He quietly redefined personal responsibility so that it sweeps in the values we are not always comfortable discussing in public: compassion and kindness to our neighbors, the love we feel for our children, and telling one's partner that one loves them every single day. At a moment in which so many of us tried to shift responsibility for the massacre in Tucson away from ourselves, Obama reminded us to take responsibility, to use the tragedy to refocus on how we treat others and what we say and how we say it.
Nobody is really going to legislate civil discourse, and it's foolish to try. The discussion about public civility has nothing to do with distracting threats of censorship or "chilling effects" or the First Amendment. It seems to me that what we can do about civility is to stop trying to enforce it in others and instead try to model it, and celebrate those public figures who model it. On this score, we can all of us ask just a bit more of ourselves. As Justice Sandra Day O'Connor suggested in a statement last night from Tucson: "Before speaking out ask yourself whether your words are true, whether they are respectful and whether they are needed in our civil discussions."
Photograph of Barack Obama by Jewel Samad/AFP/Getty Images.
---