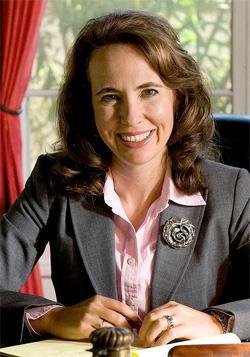 NPR is reporting that Democratic Rep. Gabrielle Giffords *, along with six others, were shot at a grocery store in Tucson. It was at an event called "Congress on Your Corner," during which local citizens could talk to Giffords face-to-face about the issues affecting them. NPR says that witnesses describe the suspect as a male in his late teens or early 20s. The New York Times mentions that Giffords was on Fox News Friday , talking about a bill that would cut congressional salaries.
If Giffords does not survive, this is a huge blow for Democratic women in Congress, as Giffords seems to have so much potential. Late last year I put a call out on the DoubleX Facebook wall for progressive Palins who might electrify our party, a commenter nominated Giffords , writing:
She worked in the world of economic development before taking over her family's small business, then rose through the state legislature to Congress in a quite conservative border district, without compromising her principles.
How awful that her life might be cut short.
Update : Gawker has an eyewitness account of the shooting .
*Correction, Jan. 8, 2011 : NPR originally reported that Giffords was killed. Other outlets are saying she is in surgery , and is still alive. The post has been changed to reflect this.
---