I actually measured my breakfast this morning, just to see how much I was eating. I was afraid a real portion size would have been tiny. But this is 1 cup of prepared oatmeal with raisins and ½ cup of 1 percent milk. I also measured my Tazo Zen green tea, which is not pictured. The mug I use holds 2 cups of liquid and I had two mugs of tea.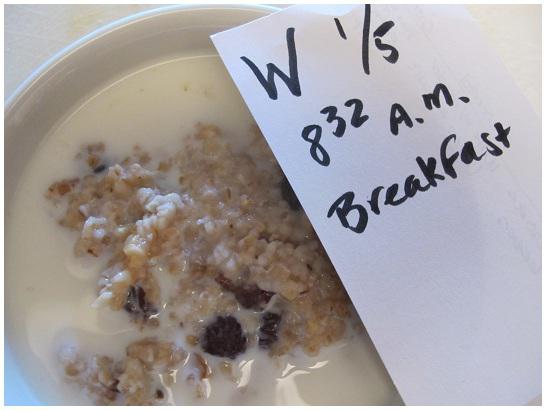 Is there anything better than hot steel-cut oats on a winter's morn? And yet, I feel like I need to start eating something else for breakfast, lest you get bored. But I'm not going to.
I took the advice of several commenters who said I felt hungry because I wasn't eating protein with each meal. So my noontime snack was Brazil nuts: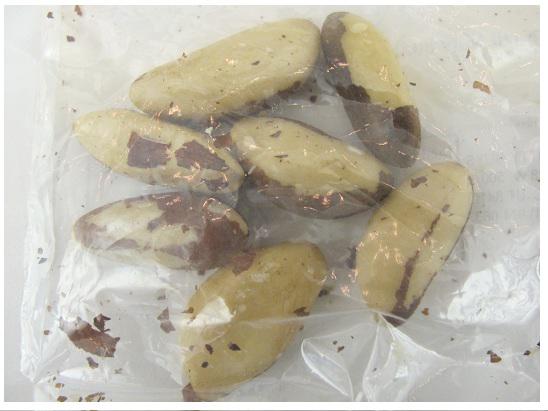 Yeah, they're in a plastic bag. Don't worry, I didn't eat the bag. Yet.
For lunch at 1:15 p.m., a protein-filled Smuckers "natural" peanut butter and banana sandwich on whole wheat (Vermont bread). I put "natural" in quotes because it doesn't actually mean anything .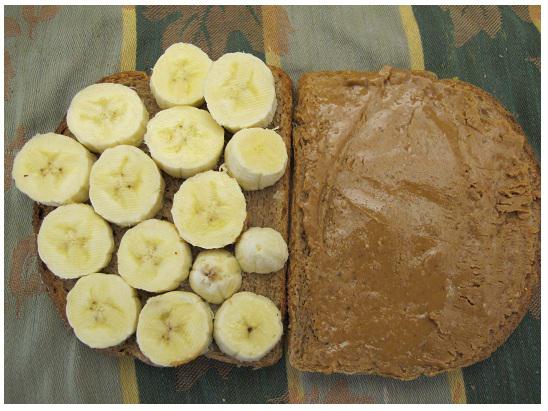 This was filling, but I think the combination of banana and two slices of bread was too much carbohydrate because I had a little blood-sugar coma in the afternoon. This proves to me that my usual tiredness is likely caused by my food choices.
And, my favorite afternoon snack, apples and cheese, please: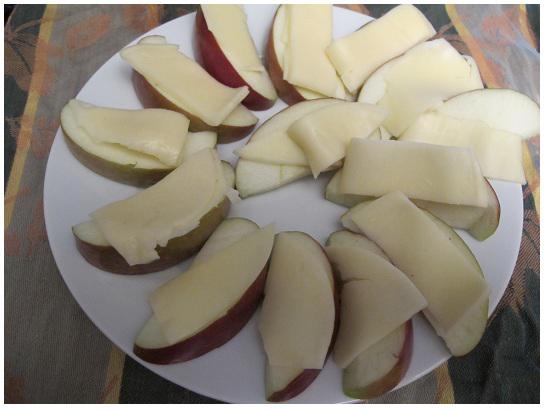 The apple is McIntosh. The cheese is provolone. It's one of my favorite afternoon snacks because it's got everything: It's crunchy, it's got protein, and it's a great combination of sweet, salty, and savory. Here's how I measured the cheese: It was half a pound of sliced cheese (8 ounces). There were 12 slices, so three slices is about 2 ounces. (I'm terrible at math. Feel free to check it and correct me.)
I feel much better today. I'm full for the first time since I started this thing. Thanks for all your helpful comments and tips.
---