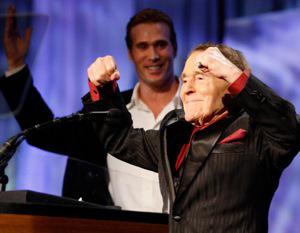 Just last week I was working out to vintage Jack LaLanne and marveling that at age 96, the fitness pioneer was still hitting the gym. Yesterday LaLanne died. He was his own best advertisement for the life-enhancing benefits of exercise and good nutrition. His was the kind of death that we can all hope for – vigorous until we cease to exist.
One thing that struck me as I watched a week's worth of his shows from the early 1960s was that he was ahead of his time not only physically but psychologically. In each show he gave a little lecture to his "students," the housewives he encouraged to spend a half-hour with him doing something for themselves. He knew that making exercise a part of your daily routine, as typical as brushing your teeth, was crucial.  By today's standards his exercise regime was easy, but he knew what was hard was the daily struggle to carve out the time to do it. LaLanne exhorted that you couldn't achieve fitness if exercise was something you did when you were being good, it had to be something you just did.
The power of habituation is one of the keys of the field of cognitive-behavioral therapy. Instead of searching for the childhood roots of our problems, it seeks to replace destructive habits of mind with more beneficial ones.  LaLanne is being rightly celebrated as one of central figures in sparking the late 20 th century interest in fitness. But he also deserves credit for understanding the key to making the body healthier starts with the mind.
Also in Slate, Emily Yoffe scissor-kicks to  Jack LaLanne's vintage fitness videos , the Trending News Channel honors LaLanne's life with a video montage , and the Brow Beat blog notes that LaLanne credited his health "to a lifelong devotion to 'clean thoughts and dirty girls.' "
Photograph of Jack LaLanne by Vince Bucci for Getty Images.
---