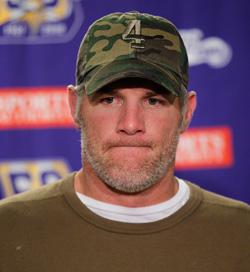 Brett Favre looks like a man with a problem that's a pattern. The new sexual harassment suit brought by two massage therapists accusing Favre of sending suggestive text messages joins the earlier accusation that he sent penis pictures to Jets game-day reporter Jenn Sterger, along with voice mails inviting her to meet him at his hotel. The voice mail part Favre admitted to; the NFL fined him $50,000 last week. All of the bad behavior, with all three women, is supposed to date from 2008. If the allegations are true, it looks like a year of mid-life crisis for Favre, who, as Rachael has pointed out, was playing for the Jets after retiring from the Green Bay Packers, trying to come back, and getting into a fight with the team instead. Maybe he started chasing the girls even though he was supposed to be a good family man because he felt like he was getting old.
In any case, in the new suit Favre mostly comes off as pathetic. Christina Scavo and Shannon O'Toole, the massage therapists, say he sent Scavo a text requesting a three-way ("Brett here, you and Crissy want to get together, I'm all alone") and another one ("Kinda lonely tonight, I guess I have bad intentions"). From the news reports, that looks like their strongest evidence against him. This seems run-of-the-mill hound-dog rather than eye-poppingly stupid, a la the penis shots. The problem for Favre, of course, is that it's all easier to believe because it's rolled up together.
Photograph of Brett Favre by Leon Halip/Getty Images.
---