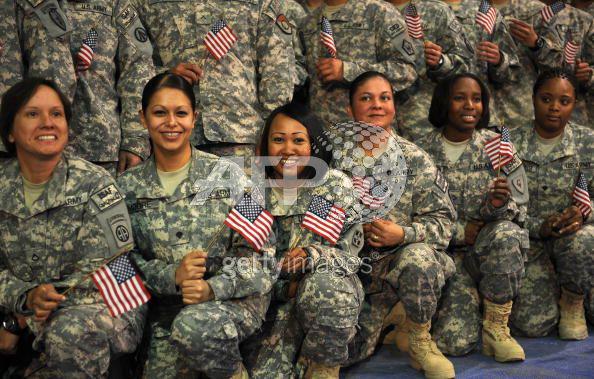 The new report on the service of gays in the military adds a big shovel to the hill of data that's amassing in favor of repealing "don't ask, don't tell." The numbers are clear: 70 percent of troops think that allowing gays to serve openly will have little or no effect on their units. Support is weaker- 60 percent -among the Marines, but that's still more than half. Also, 69 percent of troops generally say they already serve with someone who is gay, and of this group, 92 percent favor repeal. This comes after earlier research showing that even in combat zones, most troops don't share showers or rooms. The troops' responses also reflects a shift among the American public: As Brian McCabe points out , when DADT became law in 1993, 44 percent of Americans supported open service, 37 percent opposed, and 19 percent said gays should serve only if they stay in the closet. Today, 75 percent support open service, 17 percent oppose, and only 8 percent support the veil of DADT. (More smart reactions from Andrew Sullivan .)
To put this in the context of other gay rights, Americans have similarly shifted on gay marriage, though not as dramatically, with a majority polling in support for the first time this year. This comes on the heels of the utter collapse of the claim that the children of gay couples are in anyway harmed by who their parents are. Mainstream psychological groups, from the American Psychological Association on down, now say the kids of gay couples fare as well as the kids of straight couples. Because that's what the research shows.
The key question about the DADT report, of course, is whether it will give two or three Republican senators what they need to join Defense Secretary Gates and President Obama and the Democrats in voting for repeal, which failed to cross the cloture threshold in the Senate in September. This should be a slam dunk for Scott Brown, Susan Collins, and Olympia Snowe (or Lindsey Graham?). It's not because the new report probably won't persuade Sen. John McCain, who hasn't responded to the findings yet, but keeps saying that DADT is working and criticized the report for concentrating on how to implement repeal, "not whether it should be repealed or not." Maybe nothing would change his mind now. But as the hill of data becomes a mountain, senators who oppose repeal are on the wrong side of history.
Photograph by Massoud Hossaini/AFP/Getty Images
---