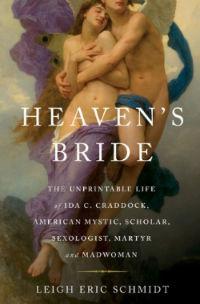 Ida C. Craddock was considered a dangerous sexual revolutionary back in the 1890s. Never mind that she barely had an audience, Craddock plied her trade as an amateur marriage therapist who thought that lovemaking between married couples was a sacred gift from god. It sounds like mild stuff now, but Craddock's frank "marriage manuals" made her a minor celebrity in underground publishing circles-and a sworn enemy of Anthony Comstock head of the Society for the Suppression of Vice. Comstock made it his personal mission to put Craddock in federal prison, and she gassed herself rather than face a jail cell, becoming a free-speech martyr whose name has now been largely forgotten.
In Heaven's Bride: The Unprintable Life of Ida C. Craddock, American Mystic, Scholar, Sexologist, Martyr, and Madwoman , Harvard professor Leigh Eric Schmidt sets out to honor Craddock as an unsung pioneer of women's sexual freedom, an Emma Goldman for the churchgoing set. In Craddock's view, the wedding night should be "a night of poetry and tender passion, of serene self-control and exaltation of mystic rapture for both parties," she wrote. She advocated foreplay, sexy lingerie and inventive positioning, all in the name of divine glory. The "wife's yoni" was "a chapel which he was to enter to worship." God intended pleasure to bring partners closer-to each other and to him.
Barred by her gender from higher academia and the safety of its more legitimate publishing avenues, Craddock became an "outcast sexologist," a sex-magic activist who risked illegal mail-order distribution of her work and offered ad-hoc counseling to couples. Craddock's approach to field research was unique: Unmarried, she relied largely on firsthand tantric experiences with her "spirit husband," an angel named Soph.
That last part was tough to swallow, even for the free love crowd. As Schmidt's painstaking scholarship reveals, Ida Craddock was also pitied as a spinster nut, driven to hallucinations by frustrated ambition and police harassment. The freethinkers found her too religious, the religious found her too free-thinking; she fell in and out of poverty, never able to scrape together the time or means to produce a proper book; and Comstock made sure to arrest her every chance he got. When she finally got a federal sentence in 1902, her family pleaded with her to claim insanity, but she refused to discredit her work to save herself.
More than a celebration of Craddock's work, Heaven's Bride offers a tragic and often chilling look at the personal and social toll of censorship. It cost Craddock her dreams, her livelihood, her credibility, her mind-and, eventually, her life.
---