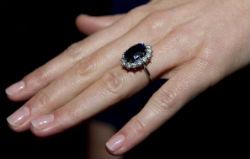 Huffington Post reports that the dress Kate Middleton wore at the announcement of her engagement to Prince William has already sold out at Harvey Nichols . Meanwhile, knockoffs of the renowned sapphire-and-diamond ring are in hot demand , suggesting that Middleton joins Michelle Obama in her super-womanly ability to move product. Her market influence is not surprising; royal weddings and coronations have always prompted a frenzied commerce in commemorative and imitative items, and evidence to date suggests Middleton, who once naughtily appeared in an undergraduate fashion show wearing only underwear, is particularly well-equipped to give the American first lady a run for her money as a style icon, and may even drive Carla Bruni into fresh spasms of envy . Not for Kate the muddy Wellies and threadbare tweeds of the ancient aristocracy.

But there's something else noteworthy about Kate. As the New York Times this week noted, if Middleton does someday ascend the throne alongside her husband, she will be the first British queen to have graduated from college, or even to have attended college at all. According to the Times , the late Princess Diana was "indifferently educated," while Wikipedia tells us that Queen Elizabeth II was schooled at home by her mother and an array of governesses and tutors. Much has been made of Middleton's refreshingly ordinary qualities-she is the middle-class daughter of a pilot and flight attendant who went on to make a pile in mail-order children's party items, and her mum may or may not have revealed her roots by uttering the word "toilet" in the presence of the current queen; indeed her last name seems Dickensian in its aptness-but it strikes me that Middleton is most representative in this, her education. She is part of what could be called a greatest generation of women: In the U.K., as in the United States, women now outnumber men on university campuses, and also outperform men in academic honors. Kate herself apparently graduated with upper-second-class honors, as did William, who is reported to have struggled in his first year at St. Andrews but got through with Kate's coaxing, raising the question of whether this maybe future queen is maybe also the tiniest bit smarter than her fiance. She represents the rise and ascendancy of the well-schooled woman.

Looking through the biographical pieces about her, though, I can't find evidence that Kate has done a heck of a lot with that education. Upon graduating she seems to have spent time working as an accessories buyer, and also perhaps (there seems to have been some odd controversy about this) l earning photography even as she warred with paparazzi. She has also dabbled in the family business . Aside from that, she has done a good bit of traveling and attending high-profile parties and outings. All of which sounds like a fun way to spend your 20s, and there's no doubt you can be smart and look good, both. Still, one worries, a little, that she may emerge as yet another female partner of a public man who, accomplished though she may be, makes herself both noteworthy and nonthreatening mostly by wearing swank clothes and looking good in them. Also, this being England, hats.

Kate's immediate predecessors may not have had the formal schooling she did, but they showed themselves women of character with a massive sense of public service. It will be interesting to see whether and how she rises to meet their example. Given the drive that young woman today are exhibiting, and given her own seeming lack of a focused calling, in some ways Middleton seems not typical at all, but out of the mainstream. Then again it would probably be inconvenient if even a modern princess had a law or medical or journalism career she was excessively attached to. Middleton is described as kind and warm-hearted, likable as well as tough. Her evolution as a public figure will be interesting to watch.
Photograph of Kate Middleton's blue sapphire engagement ring by Arthur Edwards/Getty Images.
---