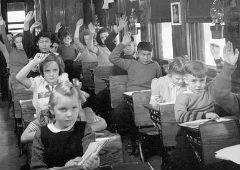 Do boys and girls learn differently? Here's the latest entry in the fight this question never fails to provoke. On the side of sticking closely to the evidence from the field of neuroscience is Lise Eliot, author of Pink Brain, Blue Brain , who calls the claims about neurologic difference mostly bogus. Girls and boys tend to develop different interests, yes, but "their differences in cognitive and emotional abilities-ranging from verbal and mathematical skill to attention span, memory, empathy, and even activity level-are far smaller than the range of such abilities among girls or boys alone." On the other side is Michael Gurian, a guru for the idea that boys are falling behind and need special help, and his co-authors, Kelley King and Kathy Stevens. Gurian tries in vain to make this a fight between scientific equals . King plays the card that unlike Eliot, she works with real children ( in the comments ).

This is a fight with real stakes: It's about whether we hype brain-based sex differences and assume they're behind the distinctions in how kids behave, or carefully parse out the relatively small role neurology plays, compared to all the other factors that influence kids. (Along with Eliot's book, Rebecca Jordan-Young's Brain Storm is another new scientific offering on this front.) Eliot emailed me to say that with a group of academics, she's about to launch a new group called American Council for Co-Educational Schools, with a web site "to provide parents, teachers and journalists with the real facts on single-sex versus coed schools and gender differences/similarities in the brain and learning." It sounds like a retort to the Gurian Institute.
When you move from theory to the classroom, the division seems less rancorous. Gurian and his co-authors push for more classroom movement (kids throw a beach ball in a circle to reinforce concepts) and visual learning (drawing along with writing). In this sedentary era, who'd argue with getting students out of their chairs? And as Eliot points out, visual and spatial learning is for girls, too: Gurian, King, and Stevens quote a teacher who found that 35 of 38 girls opted for a "visual-spatial project" on Hamlet when she let them choose among making a video, creating a talk show, doing a choral reading, or writing a screenplay. Why do the good ideas have to come with insistence on hard-wired difference?
Photograph courtesy of Library and Archives Canada, via Wikimedia Commons.

---