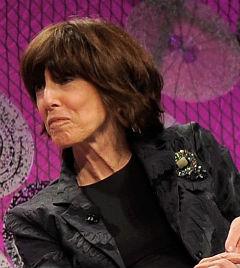 For Nora Ephron fans, a triple hit in the NYT : Glimpses of her apartment , Alex Kuczynski's very funny review of her new book , and a Style piece about the new divorce section of the Huffington Post, which Ephron has launched with Arianna Huffington, to a blizzard of page views. Kuczynski chalks up Ephron's enduring appeal to all the books and movie material she has spun from her 1980 divorce from Carl Bernstein. And yes her own divorce is Ephron's calling card for the HuffPo project, and the new book has a few flashbacks to it. But I don't think divorce mastery is the only reason that she is "the poster girl for the religion of When Life Gives You Lemons, Make Lemonade," as Kuczynski puts it. (Can't you see someone making that poster right now?) Ephron is at her best writing not only about men, but about other women.
My two favorite essays in the new book, I Remember Nothing , are about Ephron's mother and Lillian Ross, and Ephron and Lillian Hellman. The Ross story goes like this: Ross came to a party Ephron's parents had, spied a picture of Ephron and her three sisters, and asked Ephron's mother, "Do you ever see them?" Ephron writes of this legendary moment: "It was practically a cowboy movie. We'd been raised to believe that a woman could do everything and Lillian Ross had dared to question it. In our house. So my mother threw her out." This is an utterly satisfying piece of working woman's revenge, especially since most of us in such a situation would never have the presence of mind to do more than sputter. But it would be too easy to end the story there. Instead, Ephron briefly describes her mother's  descent into alcoholism. Then she moves to interviewing Ross many years later and discovering that her mother's story about banishing the royal guest from the party was true. "I got back the mother I'd idolized before it had all gone to hell," she writes. She gets to keep the story, but she also doesn't let it become the triumphant part that stands for the sadder whole.
About Lillian Hellman, who Ephron met when the grand playwright was 68, she writes, "I was besotted." For a time they wrote letters to each other, and went to dinner parties, and then Hellman's enormous ego got the better of the friendship and Ephron found a seemingly principled reason to break it off that in fact made no sense. "The truth is that any excuse will do when this sort of romance comes to an end," she writes. She's right. Women do this to each other. Though I can't imagine the legions of us who have crushes on Ephron doing it to her.
Photograph of Nora Ephron by Jemal Countess for Getty Images.
---