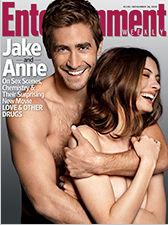 If you have only been paying cursory attention to the buzz behind the forthcoming rom-com Love & Other Drugs , you would think that the movie is just the Anne Hathaway naked hour. First there was a bizarre interview in Entertainment Weekly with Anne and her co-star Jake Gyllenhaal, which was about their sex scenes, and the sexy movies that they watched together to prepare for the sex scenes ( 9 Songs , Sex and Lucia , Last Tango in Paris ), and the injuries they sustained while shooting their sex scenes (Hathaway: "I was constantly bruised!). This was clearly EW 's attempt to be titillating, but it was actually pretty boring-the interview devolved into Jake and Anne swapping cooking tips.
Hathaway also hosted SNL this weekend, and her monologue was about the male cast members attempting to trick her into tearing her clothes off for various sketches. She's such an excellent actress that despite that hackneyed monologue gag, her episode of SNL was one of the best of the season:
Certainly Love & Other Drugs is quite intimate, and it seems like the actors' willingness to get naked adds to the realistic portrayal of their relationship. But the movie also sounds like it's more complex than most formulaic romantic comedies: Gyllenhaal is a pharmaceutical salesman who sells Viagra, and Hathaway's character has Parkinson's disease. If you watch the trailer for the film , the nudity isn't as central to its marketing as it has been to the press surrounding the movie. As Anne Hathaway's getting Oscar buzz for her role, I'm guessing she's got a lot more to offer in the movie other than her boobs. It's a bummer that SNL and EW don't really think so.
---