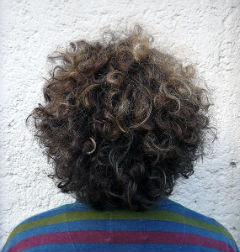 Today's New York Times Style piece on the possible dangers of Brazilian straightening gave me a strange little thrill. The labor rights advocate in me was outraged to learn that not all salons properly protect their staff from the noxious fumes, which some stylists say give them "nosebleeds, breathing problems and eye irritation." Those complaints were what prompted Oregon's occupational health agency to test the product and discover "significant levels of formaldehyde in the hair-smoothing solution sold under the name Brazilian Blowout."

Brazlian-straightening advocates-and profiteers-explain their continued use of the service in several ways: They use a different brand, or they perform the service in an open-air area, or the potential dangers simply don't bother them ("I say, you put Botox in your face, lead in your lipstick, and you smoke. … Pick your poison," shrugs one salon owner). And it's true that the findings are preliminary.

But I still take some comfort from the news. I have a mess of frizzy curls, frequently prompting people to casually suggest that I try the newest international method of straightening: from Brazil, from Japan , from the Dominican Republic . And sometimes I'm tempted to, particularly on such rainy days when no amount of gel will keep the halo of short frizzes from erupting from my scalp. But while I complain about the hassle of my hair, I can never commit to going straight for weeks, months at a time. Maybe my hair makes me look messy, even less desirable to men (so sayeth matchmaking doyenne and curly-hair-hater Patti Stanger , who would beat me with a flat iron if she ever saw me on the street). The next time someone tries to convince me to straighten my hair chemically, I can just sniff, "Don't you know that contains formaldehyde ?" and be done with it, rather than having to explain the ethnic politics-I inherited my hair from the Jewish side of my family-and the self-identification I derive from my hair. It's easier to blame the chemicals and use a straightening iron on those special, low-humidity days when I want a temporary change.
Photograph of a woman with curly hair by Wikimedia Commons.
---