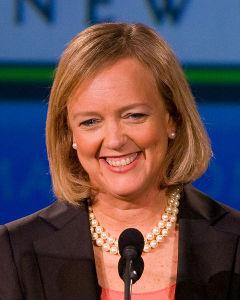 Hanna , you can't possibly expect conservatives to resist the temptation to make hay out Jerry Brown's aide calling Meg Whitman a "whore." Put aside the question of whether it's "reverse double backflip conservative feminism." It's just plain juicy!
A rare glimpse behind the curtain like that just begs for the opposition to weigh in. It's just like when George Bush got caught calling Adam Clymer a "major league asshole" or when video leaked of pretty boy John Edwards primping for a speech.
And speaking of hair, the closest parallel to this, in my mind, also comes from California and this election cycle. Isn't it a bit like when Carly Fiorina unknowingly broadcast to the whole world what she thought of Barbara Boxer's helmet hair? While at that time you expressed sympathy for Boxer and what I read as grudging admiration for Fiorina's, erm, testicular fortitude, others made sure to keep it in the news for a few days .
I don't know what to make of NOW's endorsement of Brown. The timing was unfortunate. Like Malkin points out in her post that you cite , NOW endorsed Bill Clinton during his presidential bid, but not Hillary during hers (they went for Obama). And given that Whitman is pro-choice, she seems to have passed the big litmus test.
I do know that you can't blame Whitman's supporters for milking this. After the week she had last week, with Gloria Allred on her tail, the only news that could have been better than one of Brown's aides calling her a "whore" would have been had Dan Rather used fake documents to air a report critical of her Vietnam-era service in the National Guard.
Photograph of Meg Whitman by Max Morse for Wikimedia Commons.
---