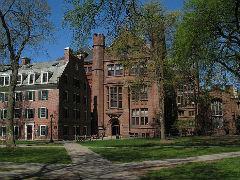 Two responses to the words chanted by DKE members reveal the manner in which sexual harassment and assault are regarded at Yale. One came from the board of the Y ale Daily News in the form of an editorial, "The right kind of feminism," and the second from President Rick Levin and Dean Mary Miller. The first was flippant and lacking empathy, admonishing the Yale Women's Center for overreacting. The other, an official statement, was tepid and overdue, written out of a political necessity. It came too late and said too little.

The editorial, released on Monday, used language that failed to depart from the sexism it was purporting to admonish. The "right kind of feminism," it made clear, should be subtle, polite, without anger or "histrionics" that might offend others' sensibilities. Much less clear why the authors think accommodation is a viable tactic. The YDN followed up with an equally appalling editor's note , the upshot of which is: We're sorry you chose to feel this way about our editorial … and we're sorry for the tone, but not the content.

On Wednesday, a week after the DKE chanting, President Levin and Dean Miller issued a joint response . "We write to express our dismay at the appalling language" DKE chanted, the president and the dean wrote. "We will confront hateful speech when it has been uttered." But how is the university actually doing that? It is not, and this is becoming a pattern, given its silence about previous incidents of misogyny and sexual harassment (the "We Love Yale Sluts" sign held outside of the Women's Center).

Both of these responses fail to understand the deeper, underlying issues. "We have become so desensitized to the language of sexual violence," wrote Mariama Diallo a recent Yale graduate. That's the real problem.

And here's a solution. Yale should create a fact-finding mission to collect data on the incidences of sexual harassment and assault. Then we'll know how severe and pervasive this is.
Photograph of Yale's Old Campus by Wikimedia Commons.
---