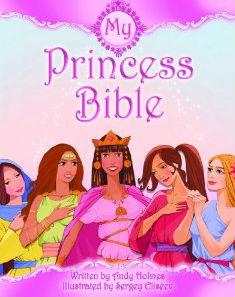 Evangelicals, perpetually and endearingly behind the curve when it comes to pop culture, are going gaga for princesses. The latest evidence is My Princess Bible , a new book from Christian publisher Tyndale House that tells the story of 19 Biblical women with Disney-style illustrations. It's a stretch: The women the book classifies as "princesses" include Rahab, a prostitute who bravely hid spies in her home for a higher cause, and Lydia, a wealthy businesswoman active in the founding of the early church.

My Princess Bible is only the latest entry into the Christian princess pantheon. This summer, the wildly popular (and generally adorable) VeggieTales series of evangelical kids DVDs came out with Sweetpea Beauty, its first DVD targeted especially for young girls. Christian publisher Thomas Nelson offers a full-text Princess Bible , with a  pink cover, sparkly binding and a bejeweled clasp. There's Sheila Walsh's children's book series Gigi, God's Little Princess , whose illustrations seem to imitate Hilary Knight's classic drawings of that New York princess, Eloise . And adult women can turn to the His Princess series, whose latest entry , published in March, features "love letters" written in the voice of the Holy Spirit.

Meanwhile, some corners of mainstream American culture have been experiencing a refreshing princess backlash lately: In the Nation a few years ago, Barbara Ehrenreich called Disney princesses a "sorry bunch of wusses," and cheekily encouraged right-thinking parents to "make a holiday bonfire out of all that plastic and tulle." A study in the British Journal of Developmental Psychology asked whether seeing images of skinny, glamorous princesses hurt young girls' self-esteem. (The results suggested not, but that didn't stop many media outlets from repeating the question .) We can anticipate another critical moment when Peggy Orenstein, who has written thoughtfully about the trend for the New York Times magazine, publishes Cinderella Ate My Daughter: Dispatches from the Front Lines of the New Girlie-Girl Culture in January.

Many feminist critiques of the princess craze won't faze conservatives, of course. And to be fair to evangelicals, royal metaphors are a natural fit with religious imagery focused on God as king. Most of the "God's princess" products-including the new My Princess Bible -ultimately focus on God's unconditional love for his children. So for now, it's onward Christian princesses.
---