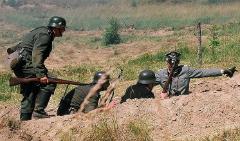 This midterm election season dominated by Tea Partiers has been a cornucopia of surprises. I find myself eager to read the news every day, just to find out what new strange thing about right-wing America has been exposed to the general public because one of its enthusiasts is running for office: opposition to the 17 th amendment , organized resistance to masturbation , the belief that certain suburbs of Detroit are Muslim theocracies . And now I've learned that there are American men who spend their weekends pretending to be members of the Waffen SS , mostly because they enjoy fantasizing about wasting Russians who had the temerity to be in the way while being Communists.
As Robert Mackey at the New York Times reports, the rationales being offered for this behavior are unusually weak, even compared to the weak sauce that we've been hearing from other Tea Party candidates when they get caught, say, arguing that the Civil Rights Act should be overturned . Claims that they're just super interested in history are undermined by quotes from the Web site of the group that GOP candidate for Congress from Ohio Rich Iott belongs to, where Nazi soldiers who killed 14 percent of the Soviet population (24 million total, including 14 million civilians and 1 million Holocaust victims ) are described as men who "gave their lives for their loved ones and a basic desire to be free."
I've always been suspicious of the motivations of men who like to dress up as old-timey soldiers and get their fake war on. It's one thing to read history, watch documentaries, or even play video games based on real events, but by the time you're wearing a costume and pretending to kill people, it's safe to say that you harbor deep-set fantasies of actually being the person you're pretending to be. But don't take my word for it. Ask the person who should know best, the ex-wife :
I was married to a Confederate Civil War Re-enactor for 10 years, and it is far more than an "interest in … history." They choose the side they're sympathetic with, for starters. They research the period, the uniforms, the attitude, and the social climate surrounding the period. They don't just re-enact it. They live, eat, breathe and admire it.
I recommend reading her entire post, if only because being married to one of these guys sounds like a punishment Dante would have thought up for the woman who invented the sweatshirt with a bedazzled picture of a cat on it. (Seriously, Hallmark should make a sympathy card just for this occasion.) I'm beginning to think if David Fincher wants to make another movie about dorks with masculinity issues , he should leave the computer geeks alone and take on these guys. It could be like Fight Club , but with less sex and violence and more beer bellies.
Photograph: re-enactment of a World War 2 battle by Wikimedia Commons.
---