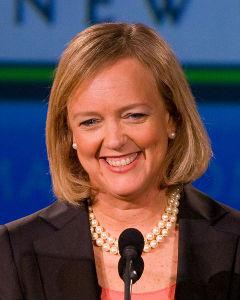 The Meg Whitman Whore-gate has produced more of the reverse double-backflip conservative feminism that this campaign season will be long remembered for. It started last week when Whitman's opponent for governor, Jerry Brown, called the police union looking for an endorsement and then didn't quite hang up the phone. The voice mail recorded one of his aides saying, "What about saying she's a whore?" (Here's the audio .) And then Whitman said this was an "insult to the women of California."
Now it's unclear exactly what the aide meant, but it's perfectly clear he or she did not mean that Whitman was a hussy who had slept with half the legislators west of the Mississippi. Since this was an endorsement call, he or she meant that Whitman was whoring herself for the endorsement. In one way, we could see this as progress, that the word "whore" is so far removed from its original sex-shaming role that it gets thrown around in the context of political power trading. "Arnold Schwarzenegger is whoring for votes" sounds equally plausible here. Also, some say it's Brown's wife who said it.
But that hasn't stopped this whole thing from exploding among the Mama Grizzlies. As every right-wing female blogger has pointed out-the National Organization for Women endorsed Brown LESS THAN 24 HOURS after whore-gate, thus proving once and for all that "NOW is a partisan organization," as Michelle Malkin wrote.
So let's break down the terms of the new scrambled-up feminism. NOW supports a man because it thinks he would be better for their cause. Michelle Malkin, meanwhile, insists that sisters should stand up for a sister just because she's a sister. And also, as the PC handbooks warned in the '90s, WORDS really can hurt. I swear, I just don't understand anymore.
Photograph of Meg Whitman by Max Morse for Wikimedia Commons.
---