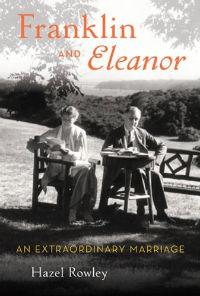 In the '30s, Eleanor Roosevelt wrote in a personal letter: "I can't kiss you … so I kiss your picture good night and good morning!" This letter was not addressed to her husband Franklin. This missive was written to Lorena "Hick" Hickok, a lesbian journalist and, according to Hazel Rowley-the author of the new biography of the Roosevelt marriage, Franklin & Eleanor -Eleanor's beloved. Not only did Franklin know about Eleanor and Hick's entanglement, he also supported it. According to Rowley's vibrant, accessible book, during FDR's first term:
The first lady planned a three-week motor trip with Lorena Hickok, just the two of them, through Vermont and New Hampshire to Quebec and the rugged Gaspé Peninsula in French Canada. The Secret Service insisted that this was quite impossible. FDR, seeing Eleanor's face, agreed to let them go alone.
FDR, of course, had his own romantic entanglements, most notably with Lucy Mercer Rutherfurd. But as the above anecdote shows, FDR and Eleanor were extremely devoted to each others' happiness, even as they went after relationships outside their marriage. The revelation of Eleanor's bisexuality is not new , but this biography does an excellent job of contextualizing these relationships within the Roosevelts' union as a whole.
What's more, Franklin was unusually supportive of Eleanor's intellectual pursuits, especially for a man of his day: Eleanor remains the only first lady to write an autobiography while still in the White House. Their bond, while certainly imperfect, was indeed, "extraordinary," as Rowley calls it.  Any lover of popular history and unorthodox relationships (juicy bits included) will adore this engaging biography.
---