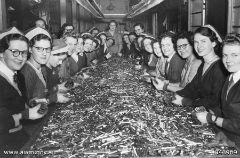 The Great Recession may be over–officially–but its deep and lasting impact on American families becomes clearer with each new set of statistics published. Recently we learned that as of last year, the number of Americans living in poverty was higher than it's been in half a century. Today, a paper is being released which suggests that those households lucky enough to have weathered the recession with roofs over their heads and food on the table may have one family member in particular to thank for it. Wives.

The paper, part of a study by Kristin Smith, a family demographer with the Carsey Institute at the University of New Hampshire, shows that during this recession, with its punishing unemployment rates and extended bouts of joblessness, wives stepped into the breach as never before, laboring to offset their husbands' vanished earnings. Job loss during this recession was–and continues to be–infamously concentrated among men; of the millions of jobs lost since late 2007, many were in manufacturing and construction, sectors that are still male-dominated. Responding to the urgency of the situation, wives who were not in the workforce took jobs, and those who were working already increased their hours and/or took second positions. Many wives went from being secondary earners to being the primary breadwinner, a role reversal that can be validating and empowering, but also wrenching and destabilizing, particularly given that much of the realignment was occurring in red state regions, with more traditional views of gender roles.

As a result, we as a nation have reached an important milestone. In 2009, Smith found, employed wives contributed a greater percentage of the family income than ever before . Last year, working wives contributed 47 percent of family earnings–very close to half. This is a two-percentage-point jump from 2008 and the largest single-year increase in 15 years. If you've wondered why we aren't seeing people standing in breadlines and jumping from ledges and even more families hammering on the doors of homeless shelters, the answer lies, at least in part, in the number of wives who are working harder and longer to keep their households intact.

As Smith points out in this paper, working wives' portion of family earnings has been increasing steadily over the past two decades, but escalated sharply with a startling three-percentage-point rise from 44 percent in 2007 to 47 percent in 2009. The recession accelerated a change that was already transforming workplaces and family dynamics, as women's earnings have become central to household functioning. This isn't pin money.

The earlier gains may have been good news for women–a signal of progress–but the more recent gains aren't good for anybody. That's because this latest jump is due not to an increase in women's earnings (women have suffered unemployment, too, of course, just not at the rates men have) but to a decline in men's. "Normally the share of family earnings contributed by the wife is an indicator of women's progress," says Smith. "In this case, I really see it more as an indication of family financial strain, or economic turmoil."

A related research study that Smith and a colleague published in this month's issue of the journal Family Relations underscores just how much wives have adjusted to make up for what their husbands have lost–giving up stay-at-home-mom status, putting their kids in day care, mass-mailing r é sum é s, visiting job banks. Their study found that "[w]ives of husbands who stopped working during the recession were 2 times more likely to enter the labor force" as wives whose husbands continued working. Moreover, the data suggest that women are not picky about the jobs they're taking. "We suspect the recession is pushing many women into jobs that they may not consider during times of prosperity," the authors noted. On a recent trip to Michigan, I saw this first-hand, interviewing any number of women whose husbands had lost jobs, often high-paying ones, often in the auto industry. While their husbands were waiting for the jobs to come back–something that may or may not happen–the women, typically willing to work for lower wages than their husbands would, were working in sales, in customer service, in retail, at Home Depot, anything to keep the mortgage current. To the men's credit, they were cleaning house and cooking and taking care of the kids. "He's wonderful with children," one woman said of her husband. Not one of the women expected to be thanked or took any special pride in what they'd accomplished.

It's true that women have stepped in before during crises, notably World War II. After that conflict ended, they were sent back to the kitchen. Not this time, Smith says. This time, for many, there's no going back. Family savings are so depleted and home values so compromised that even mothers who would like to return home to care for small children may not be able to do so, if and when their husbands find new jobs. Smith also points out that with so many women as breadwinners, it's more important than ever to make workplaces more family-friendly, to make hours more flexible, and to narrow the wage gap. (Skeptics like to attribute the lingering pay gap to women's choice of lower-paying professions, but numerous studies doing careful dissections have found that while some of the gap may be due to job choice and other factors, there is an "unexplained" portion of the pay gap that is likely due to discrimination.)

It would also be nice if somebody in a high place took to the microphone to recognize not only the hardship of those who lost jobs through no fault of their own, but the commitment and flexibility of spouses who get out of bed every morning to pick up the slack. Until that happens, Smith's study is a valuable reminder of women's special economic role during this recession, and likely after. I am woman, clock me in.

(On a related note, I am working on a book about female breadwinning and am eager to interview readers with relevant stories. I would very much like to hear from any women out there who bring in the bulk of income in their family. I'd also like to talk to self-sufficient single women who can talk about how their salary affects dating and marriage; and also college students with insight into what it's like to be on campus in an era when women outnumber men, a trend with major implications. Men, I'd love to talk to you, too. You can reach me at lizamundy@gmail.com .)
Photograph from Wikimedia Commons.
---