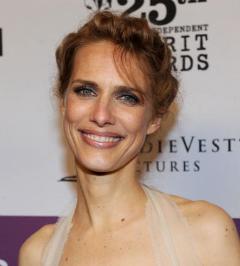 Vulture has an exclamation-point-heavy interview with director Lynn Shelton , auteur behind the mumblecore favorite Humpday and the director of this past Sunday's Mad Men episode, "Hand and Knees." The episode, which opened up the floodgates of unmitigated crisis on just about all the beloved characters (SPOILER ALERT: the interview bits below will reveal some specifics), was Shelton's first foray into TV. Not a bad debut, especially considering most television creatives aren't lucky enough to earn their first credit on a gem like Mad Men . Matthew Weiner, for example, climbed his way up from a writer position on the FOX sitcom Party Girl , which centered on the exploits of a girl whose mother dies leaving her " to find herself in the clubs and parties of New York City ." That show, alas, was short-lived.

Shelton's television debut, however, has garnered heaps of critical praise . (I, for one, was a fan of the mirror-reflected vomit shot.) She shares the highlights and hardships ("I'd never set foot on a soundstage, much less directed on a soundstage") of directing a great episode of AMC's lauded show.

Breasts! They're just not the same as they used to be : "It turned out that Hugh said, 'In order to do this, you need to use actual current Playboy bunnies.' So we had to toss the casting list that we had, and cast again from a new pool of actual Playboy Playmates. Which is an interesting challenge as well, because the ideal body shape is very different now. And then there's the whole issue of how it's very normal for people to have had a lot of plastic surgery done on their bodies and their faces …"

Even directors get the blues : "The line-I mean, I cried like a baby when I read it in the script, and I was a mess when I was onset shooting it, and then seeing it last night, too-the line where Roger comes into her office and says, 'I wish I could hold you right now.' "

Joan Holloway coming to a big screen near you? " I felt like Christina [Hendricks] in particular was really open and receptive to that kind of connection. I feel like we really connected … when I find somebody that I really admire, that's the way my brain works. Humpday was designed for the actors. Believe me, she's in the mix in my head! For sure."
Photograph of Lynn Shelton by Frazer Harrison for Getty Images Entertainment.
---