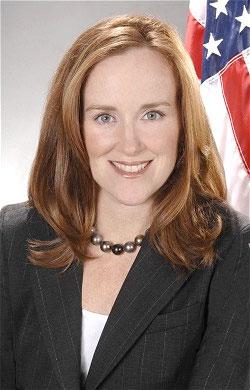 A couple weeks ago, I wrote an article about how Democratic female pols can market themselves in the face of the Mama Grizzly assualt, dinging New York Attorney General candidate Kathleen M. Rice in particular for a campaign video in which she all but declared herself tough in spite of her gender. Today, the New York Times profiles Rice in advance of Tuesday's Democratic primary, making it clear that her tougher-than-any-guy image wasn't just a costume she slipped on for that ad, that her aggressive pursuit of harsher sentencing for drunk drivers and fewer plea bargains is what's earned her a national reputation-but not an entirely positive one. She's not popular in the Nassau County legal community, it seems. In addition to citing criticism of her management style, the Times piece notes, " Some defense lawyers accuse her of being more concerned with headlines than with justice. They say her efforts to reduce plea deals have created case backlogs, and criticize her campaign to seek stiffer sentences for drunken driving as political posturing." There were whispers that it was her naked ambition that prevented her from being appointed to a U.S. attorney gig for which she was under consideration, and the most unflattering detail of all is that she "angered women's groups when she told part-time female prosecutors that they should take on full-time roles if they wanted to continue in the office. Ms. Rice brushed aside the criticisms, saying she had a responsibility to taxpayers to get the most out of her prosecutors. (She later created a special bureau, charged with the initial assessment of new cases, which allowed flexible work hours for some prosecutors.)" And while Katrina Vanden Heuval, who endorsed Rice's opponent Eric Schneiderman in the Nation , recently tweeted , " Why would women support Rice for NY Atty General. Eric Schneiderman has most powerful record supporting womens' repro & civil right," Rice has been endorsed by Emily's List, Gloria Steinem, and NOW's N.Y. PAC.
So, of course, the question to ask is, would Rice's tough image as a prosecutor have received the same treatment from the Times were she a man? Sure. That particular office, NY AG, most recently occupied by Andrew Cuomo and Eliot Spitzer, isn't a place for pushovers, and there's been plenty of media coverage of both those men's managerial styles and ambition. Though perhaps that full-time vs. part-time detail might not have made the final edit-or maybe it wouldn't have happened. I hate saying it, but that reads like Rice had a particular ax to grind on that issue, that she wasn't willing to give other women any quarter since she'd made it to where she was by going to great pains to not ask for different treatment as a woman. And that's probably what makes her image problem all the more frustrating to Rice. Naked ambition and agression were what helped Spitzer and Cuomo get the same job those very qualities might prevent her from snagging.
Photograph of District Attorney Kathleen M. Rice courtesy of Nassau County, NY.
---