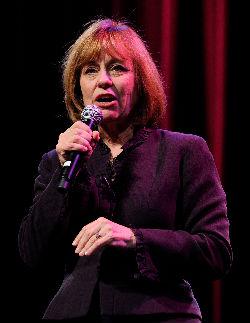 Why can't the Republican party do a better job of wrangling Sharron Angle?  It can't be that expensive to put at least one person on her to research everyone she associates with, so she can be run off spending time with some of her nuttier allies.  This morning, John Ralston of the Las Vegas Sun reported that Angle is headlining an event tomorrow for the Doctors Tea Party, which is backed by the Association of American Physicians and Surgeons.
As Ralston reports, the AAPS has trucked in some far-out conspiracy theories and John Bircher-style right wing demagoguery.  The Republicans may try to rewrite history to cast themselves as the defenders of Medicare (since so much of the Republican base is on Medicare), but the AAPS believes Medicare is "evil". AAPS has published papers that promote the fringe theory that HIV doesn't cause AIDS.  And, in a piece that would fit neatly into the Onion with just a few grammatical improvements, they published an article suggesting that Obama isn't really popular so much as he uses mind control tricks to lure people into thinking they like him.
And now they have Sharron Angle, the Republican candidate for the Nevada Senate seat, gracing them with her presence and all the prestige her position brings.  Since the polls put her neck and neck with Reid , there's still a strong chance that we could have a sitting Senator gracing every fringe right wing group that comes along with her presence.  Unless, of course, the voters in Nevada start paying closer attention.
Photograph of Sharron Angle by Ethan Miller/Getty Images.
---