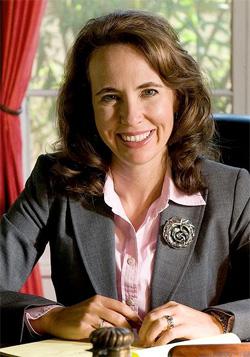 Hanna, yesterday you asked: Who is the Sarah Palin of the left ? It's a question that many other progressive bloggers have been mulling in the past day since Anna Holmes and Rebecca Traister's smart, provocative New York Times op-ed was published. On their Twitters, Holmes (disclosure: a pal and my former boss at Jezebel), mentions Florida Congresswoman Debbie Wasserman Schultz as a potential progressive Palin , while Rebecca Traister brings up Minnesota Sen. Amy Klobuchar and Michigan Gov. Jennifer Granholm.  On our Facebook page, Arizona Rep. Gabrielle Giffords gets a shout out, and commenter Auros Harman explains why Giffords is a contender:
She worked in the world of economic development before taking over her family's small business, then rose through the state legislature to Congress in a quite conservative border district, without compromising her principles. She has a media-ready husband, too-US Navy Captain and Astronaut Mark Kelly.
The thing we can't discount when we're talking about Palin is her considerable charisma , which is something that's organic, and dare I say, special.  As Courtney Martin points out on Feministing, "The same feminists who bemoan Sarah Palin's vacuous spunk have a lot to learn from her about how to preach to the unconverted. … [T]here was a word missing from Traister and Holmes' column that I see as imperative: performance." I'd add one more talent of Palin's that we'd do well to emulate: She effectively harnesses new media, Tweeting and Facebooking up an impassioned, though nonsensical, storm . Her new media profile is entirely her own creation, and the primary way she communicates to her dedicated flock.
Of the four women above, none have yet demonstrated Palin-levels of magnetism, though I think Granholm and Giffords come the closest. In terms of a new media presence, Wasserman Schultz has a very engaging Twitter , and if she had a bolder national presence and more followers, she could really make a Web impact. To my mind, though, the female Dem who best uses new media is a generation older than Palin: It's Sen. Claire McCaskill of Missouri, who has a very inspiring Twitter feed .
It's unclear whether any of these women is the answer to our Palin problem. But I hope that going forward, Democrats can do a better job of finding a Palin in the rough, a woman with media savvy and that innate X factor who offers " a triumphalist message of spirited hope and fight ," as Luisita Lopez Torregrosa describes Palin as providing in the IHT. And when they find her, I hope that this time around they actually promote her as Holmes and Traister recommend.
---